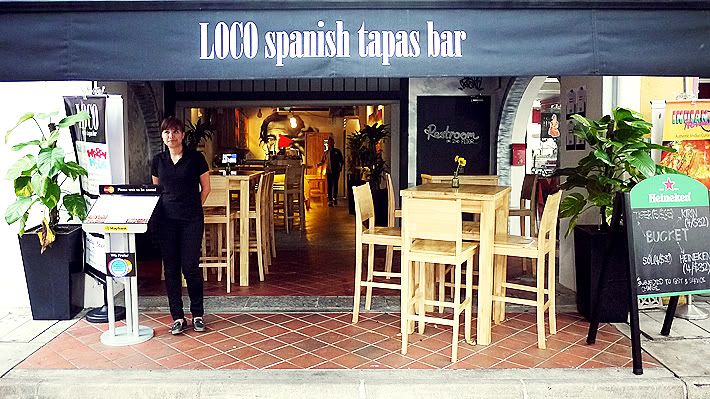 Located in the bustling social enclave of Boat Quay along the riverfront, Loco is a Spanish tapas bar and restaurant serving up an extensive selection of Spanish cuisine along with Sangrias, wines, beers, spirits and cocktails.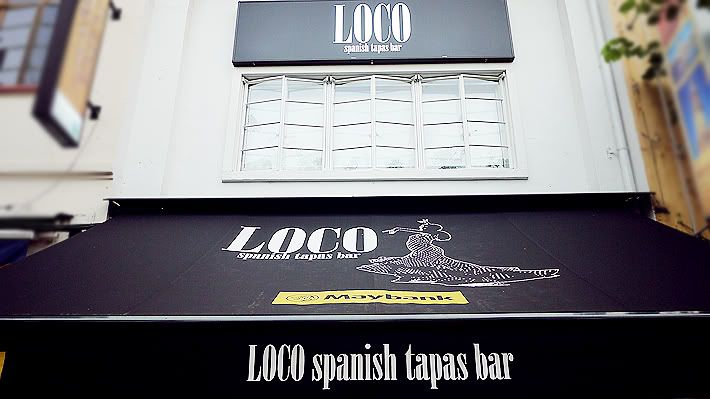 Sitting no more than 40 people, Loco comes replete with indoor and outdoor seating, with a private room hidden out of sight on the second storey. The warm intimate interior adopts a contemporary theme with Spanish inspired graffiti splashed across the walls, with limited bar seating.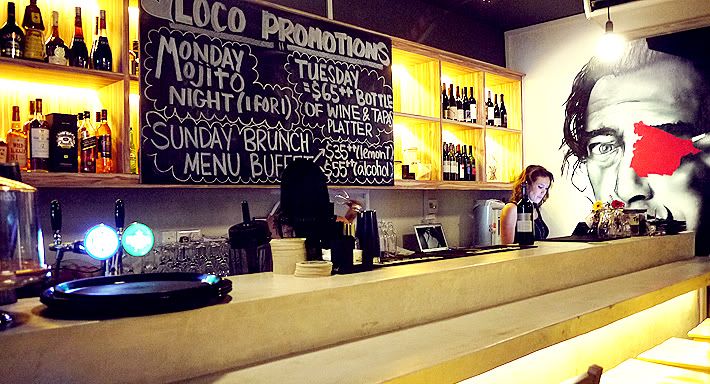 Sip on Sangria while people-watching or simply enjoying the occasional breeze from the Singapore river outdoors.

Sangria, Red or Yellow ($12 per glass, $50 per jug)
Its menu boasts a selection of the ubiquitous cuisine you will find in Spain; the range of tapas itself will send you into a head-spin of wonderfully contrasted flavours.

Hot Tapas


Croquettas de Pollo (Chicken Croquettes) $2.50 per piece
Highly priced and prized at $2.50 per piece, the lightly breaded croquettes are fried to a golden crisp, sans the greasiness. The lack of chicken chunks within may leave the carnivores in dismay, but the smooth, gooey interior screams comfort food. It left me wanting more, and more, and more.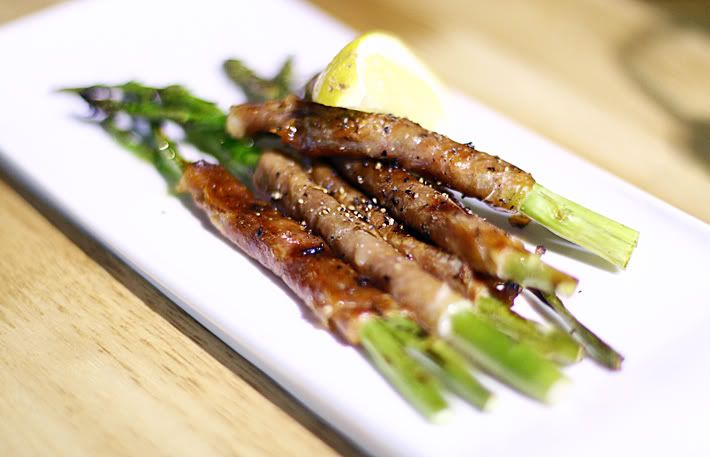 Esparragos a la Plancha con Jamon (Grilled Asparagus wrapped with Ham) $14
For someone who tends to discard their greens, the asparagus won't change your mind one bit. I tend to only consume vegetables that are cooked longer, softer and in absence of that crunch and bitterness present in most greens. The ham is overly salty and kills the palate.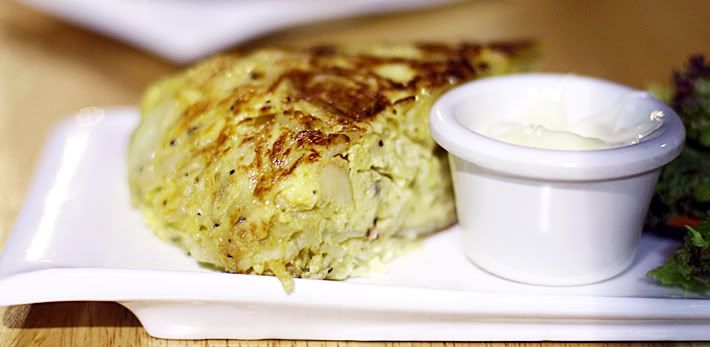 Tortilla Espanola (Spanish Omelette) $8
The Spanish Omelette has a potato filling, providing a starchy contrast to the egg –it goes nicely with a dollop of mayonnaise!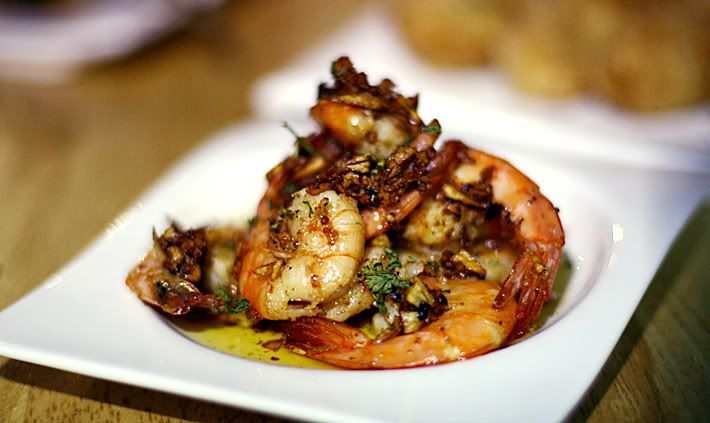 Gambas al Ajillo (Shrimps Sautéed in Garlic and Olive Oil) $14
Moving in to the more robust dishes, the shrimps sautéed in garlic and olive oil are nicely seasoned and I especially enjoyed the crisp garlic bits scattered atop. However, the shrimps are tiny and I would feel the pinch to pay $14 for this portion.

Solomillo al Ajo (Beef Tenderloin Cubes Sautéed in Olive oil and Garlic) $15
Served in the same olive oil and garlic dressing, the beef tenderloin cubes faired better than the shrimps. It is seasoned lightly to bring out the meat's natural flavours, and the beef tenderloin cubes are absolutely tender and moist, devoid of chewiness. I liked it!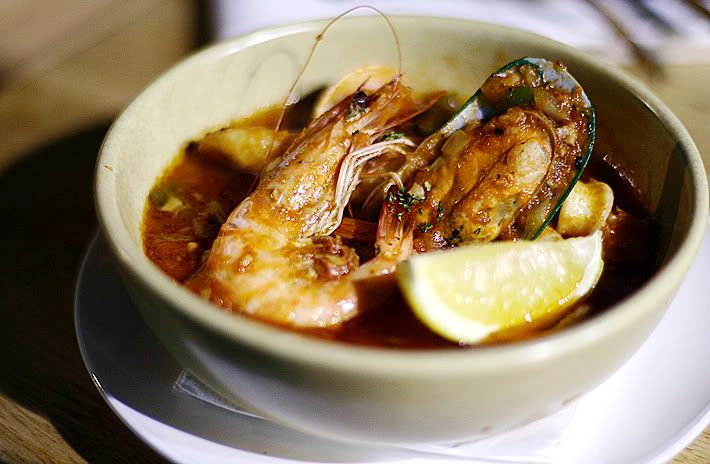 Zarzuela de Mariscos (Mixed Seafood in Tomato Sauce) $16
There were raves across the table as we took spoonfuls of the flavourful sauce. This dish comes with an assortment of seafood stepped in a rich tomato sauce, and the sauce surely did not come out from a can –it is deeply satisfying and fused with pleasing textures within. I especially enjoyed the chunks of fish that is tender and moist.

Cordero al Ajo (Rack of Lamb Spiced with Garlic and Aromatic Herbs) $7.50 per piece
The lamb is tender and well penetrated with flavours from the sauce. Those with an aversion to lamb's distinct gamy smell may actually find this dish palatable. I enjoyed it!
The tapas menu is great for those who prefer variety to quantity, especially when you can order the items by the pieces to sample without overstuffing yourself.
Mains


Paella Valenciana $35
The Paella is a signature dish from Valencia. Complete with chorizo, chicken, seafood and vegetables, the plump rice grains are moist and well infused with flavours from the ingredients, cooked slowly in a secret recipe homemade broth –it certainly packs a punch.
The best part of this dish is the crust of rice that sticks to the bottom of the pan. Albeit burnt and slightly bitter, like how paella is meant to be, I scraped off every bit of it!
I've tasted paellas from several restaurants and I can safely say that this is one of the best executed.

Churros con Chocolate $7
For dessert, we had Churros served with a chocolate dip. I wouldn't call this dessert, as it was more like a snack to me –something I could munch on all day long. I enjoyed the texture of it; it is crisp on the outside yet it isn't too crunchy that you would end up losing a tooth chewing on it; it breaks apart at the slightest pressure.
In conclusion:
Several dishes at Loco impress with punchy flavours and flair. I wasn't disappointed. I wouldn't recommend it to those on a stringent budget though, as it isn't exactly cheap, however you won't be short-changed for the quality of food.
Don't miss out on their Happy "LOCO" Hour, happening daily from 5pm to 8pm!
Thanks Nat for asking me along for the tasting session, and Loco for the hospitality. I enjoyed myself, together with the hot boys of six-and-seven and CY!
Opening Hours
Mondays to Saturdays: 11.30 AM to Midnight (last food order at 10.30 PM)
Sundays: 11.00 AM to 4.00 PM
LOCO
48 Boat Quay
Ph: +65 6535 2841
contact@locotapas.sg
http://www.locotapas.sg/