20 Omy.sg bloggers were invited to the SHINE Youth Festival Media Conference, held at Scape Warehouse.
The session kicked off with a performance by John and Deniece Glee Studios.
Celebrating July as the month of Youth, the SHINE Youth Festival has orchestrated a series exciting activities throughout the entire month.
The theme for this year's SHINE Youth Festival is 'Aspirations', accompanied by a new tagline – "Fire up your passion!" – inspiring youths to dream big and take risks.

Highlights of SHINE 2012:
Pitch to SHINE
Pitch to SHINE, launched early this year, is a new grant that identifies and funds youth projects promoting worthy causes. A total of 16 projects were awarded the grant this year; they are themed 'Youth Culture', 'Youth Sports' and 'Youth Action'.
They are looking forward to more projects next year, with even more dynamic and engaging ideas.
Pledge to SHINE
Pledge to SHINE is a new and engaging online portal for youths to pledge their aspirations.
Follow these simple steps to get started:
Visit http://shine.nyc.sg/
Click on 'Pledge to SHINE portal' or http://shine.startnow.sg/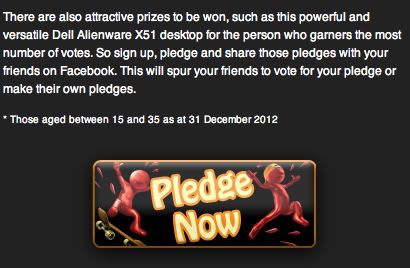 Next, click on 'Pledge Now'.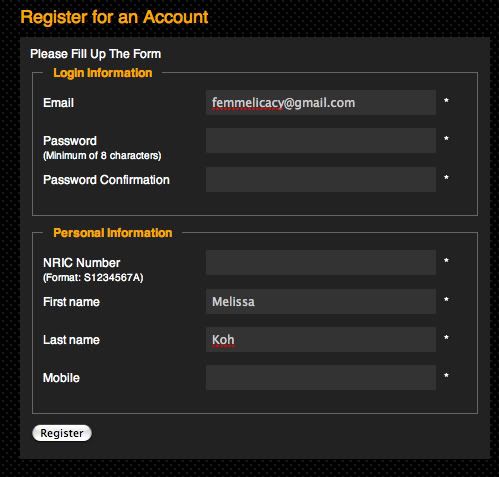 Register for an account. It's fuss-free!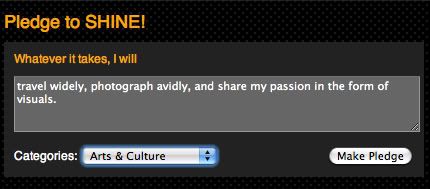 You can now type in your pledge; whatever that is of utmost importance to you, or what you feel will make a difference in our community.
Remember to 'Connect to Facebook' so that your friends can see your pledge –they can be great motivation for you to work towards it!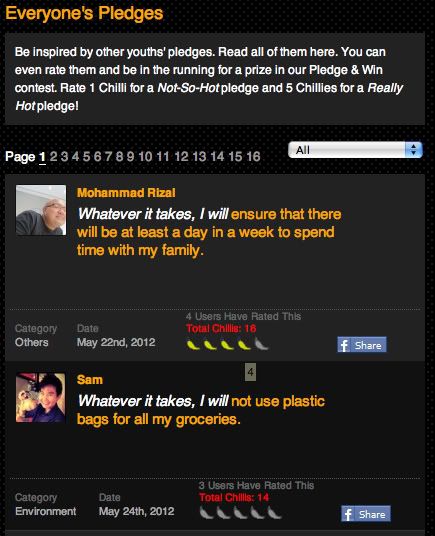 You can vote for other pledges you deem meaningful, and you can even share it on facebook!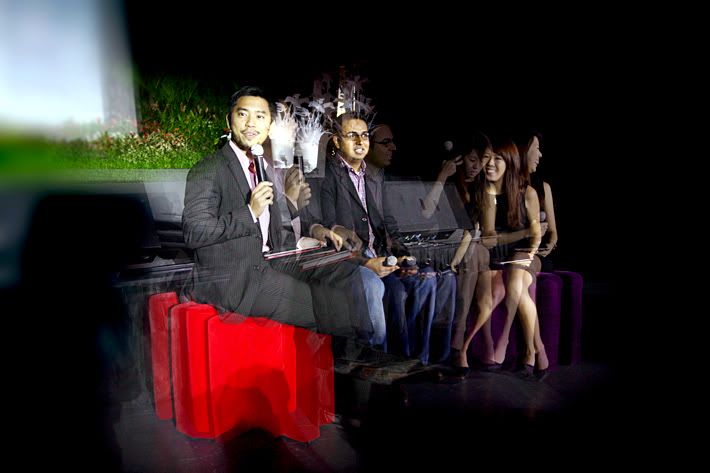 The gleeful performance was followed by an introduction of SHINE 2012 and panel discussion by Martin Tan, Chairman of SHINE Youth Festival Steering Committee, and Muhammad Nabil, Co-Chair of SHINE Youth Festival Organising Committee.
Paraphrasing Martin Tan, "SHINE 2012 aims to ignite a new wave of social movements, creating a positive impact on the youth community."
Artists living with Spina Bifida, Alvina Neo and Bernard Toh from Dreamcatchers – a Gold Pitch to SHINE grant awardee – shared with us the inspirations behind their artworks.
Dreancatchers is a group made up of unique youths that hold on firmly to the belief that chonic illnesses are not disabling, and represents the possibilities if one dares to dream and put their hearts into it.
Bernard Toh remarks, "Life is like a Jenga Block; you may take something out of it but it will still stand strong."
Quoting Alvina Neo, "Living with chronic illness doesn't mean the end of the world." She is currently pursuing a degree in social work, and is actively participating in water sports.
Not-to-be-missed: Project Dreamcatchers features art pieces made using medical items and equipment, presented in a mix of photography and paintings. You can view the exhibition at Goodman Arts Centre from 27 till 29 July 2012. Admission is free.
Luminance! Youth Light Art Festival features imaginative, ingenious and thought-provoking light art pieces from renowned artists, emerging Singaporean talents and overseas youths.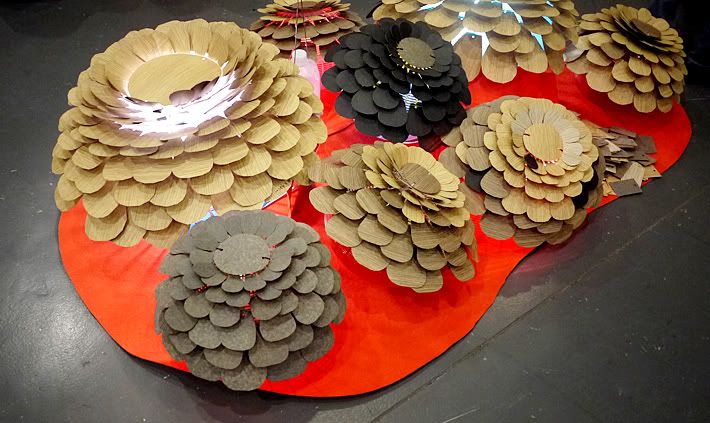 The artwork, 'Serenity', is made completely out of recycled materials: the beautiful flowers uses mainly unwanted laminates from kind sponsor, lamiTAK.
Partners from Simei Care Centre, a psychiatric rehabilitation centre carefully bends and delicately cuts perfect petals out of wood laminates. Petals are then painstakingly attached onto used food covers piece by piece.
Tired of hearing/saying these words "I can't draw"?
Paraphrasing Shani Chong, local teacher come artist, "Art isn't all about drawing. The decisions you make in your daily life, such as the design or colour of your bag, connote the closet artist in you."
Check out creative art pieces made using recycling materials, and you may be inspired.
Event details: Luminance! Youth Light Art Festival, 23 June to 1 July 2012, 7pm till midnight at Scape
Do yoyos bringing back nostalgic memories of your childhood?
Watch top yoyo performers compete in the Singapore Yoyo Competition and Asia Pacific Yoyo Competition, where the overall Champion of Champions will win a chance to compete with the finest at the USA World Yoyo Competition Finals.
Event details: SSYC & APYC (Yoyo Competition), 13 to 15 July at Hougang Mall Atrium
On 30th June, the COSMO Youth Parade will fire the crowd with enthusiasm. Hundreds of youths, volunteers and the young-at-heart will be donned in cosplay and mascot costumes, painting Orchard Road colourful, in celebration of youth culture.
Event details: 30 June 2012, 5.30pm-6.30pm at Civic Plaza, Ngee Ann City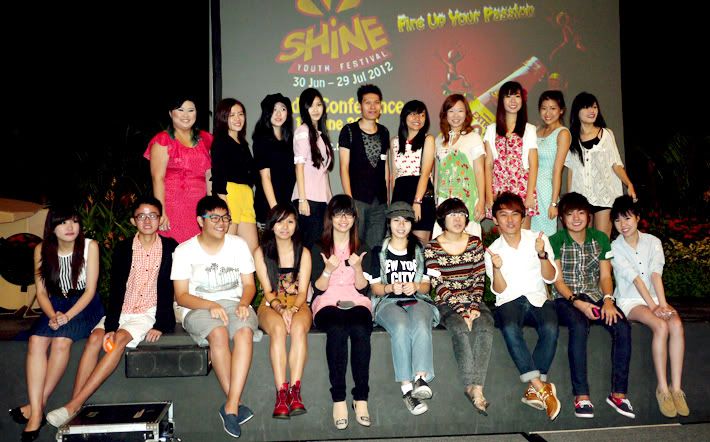 Happy omy.sg bloggers!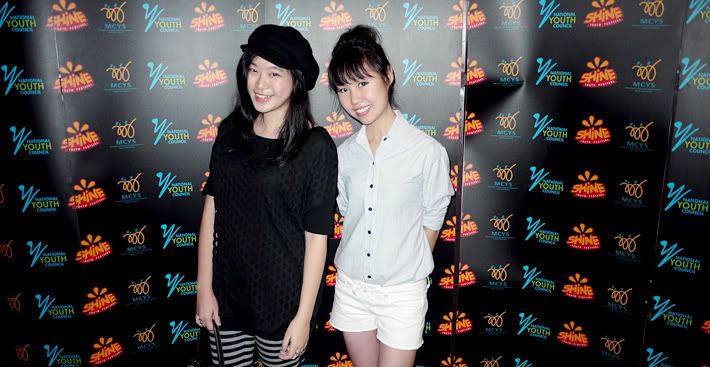 Finally got to meet YouTuber, Miranda Ho, in real life. Her videos are hilarious! Love her unpretentious personality and humour.
The entire month of July is packed with fun-filled activities! Check out the website for the events calendar.