Last Sunday, American-bred Moonberry celebrates Fourth of July with a BBQ Potluck party by the poolside. It was a great opportunity for a bunch of friends to kick back and relax, and enjoy each other's company over good food and drinks.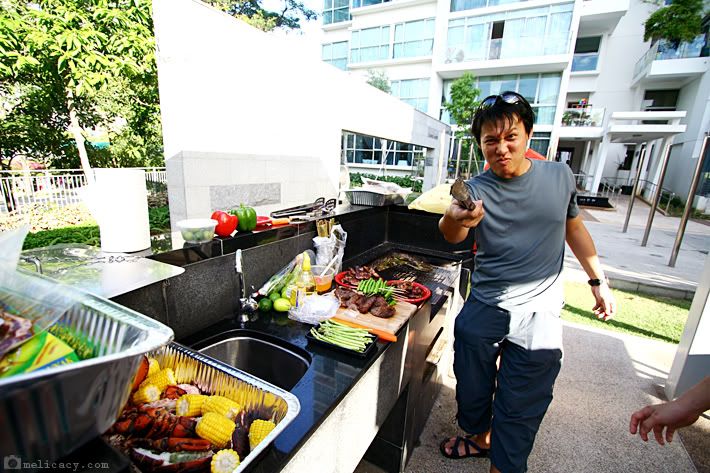 It was nice seeing a good number of familiar faces. I rarely attend social gatherings as I can get awkwardly quiet and introverted, but I do appreciate the friends that I made after entering the foodie field.
It was a semi potluck party, so there is definitely no shortage of food. Moonberry provided the main attraction (i.e. meats and seafood to be grilled), while the rest of us had the freedom to bring whatever we deem appropriate for the party.
The result is: a charming variety of foods and drinks on the table.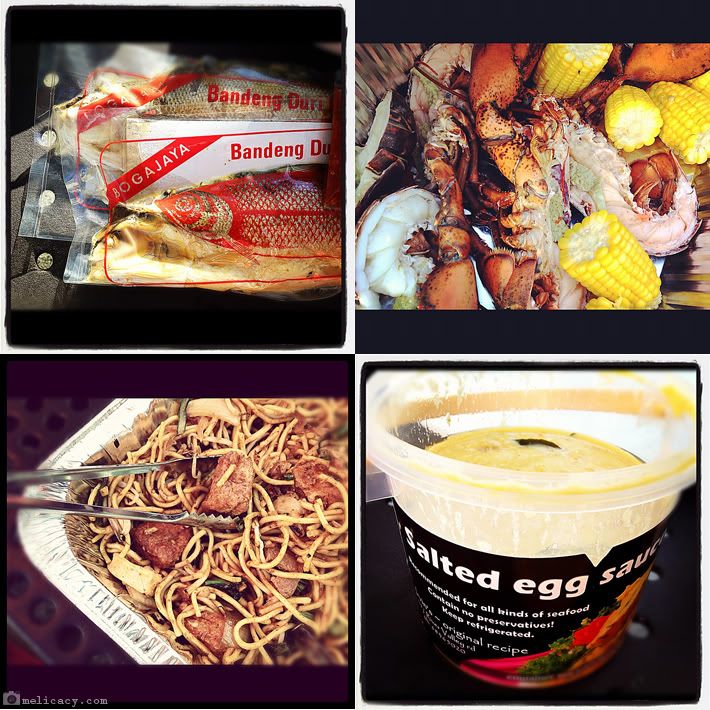 I've never been a part of a potluck party. I know right? My social circle isn't huge and I spend a lot of time alone. However in recent times, this situation is noticeably improved and I am rarely at home these days.
My initial plan was to bring hazelnut baileys, but I decided to omit the idea of adding more booze to the existing list of wines, liquors and beers.
After much brainstorming, it was thanks to Derrick's suggestion of getting the Salted Egg Sauce from Irvin's Live Seafood House (which we all enjoyed tremendously during our last visit) that my indecisive predicament was resolved.
The Salted Egg Sauce goes well with almost anything; it is highly addictive. Sure enough, it was a massive hit during the party, especially with Smith.
I also bought a few bottles of soft drinks on my way to her place, as I knew we wouldn't want to be drowning oursselves in all that alcohol.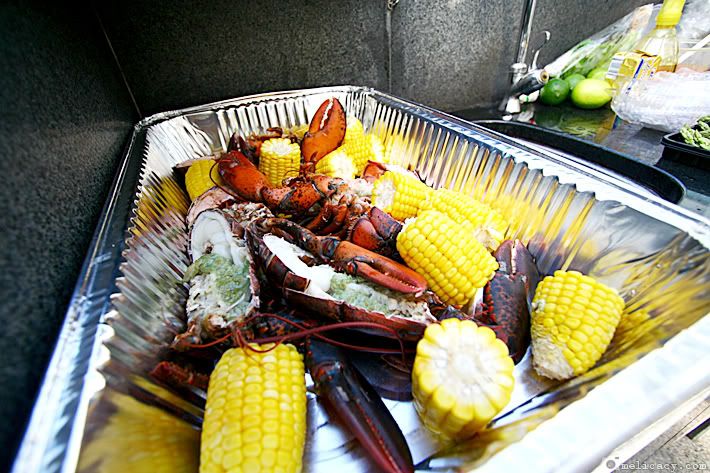 Lobster –the star of the evening.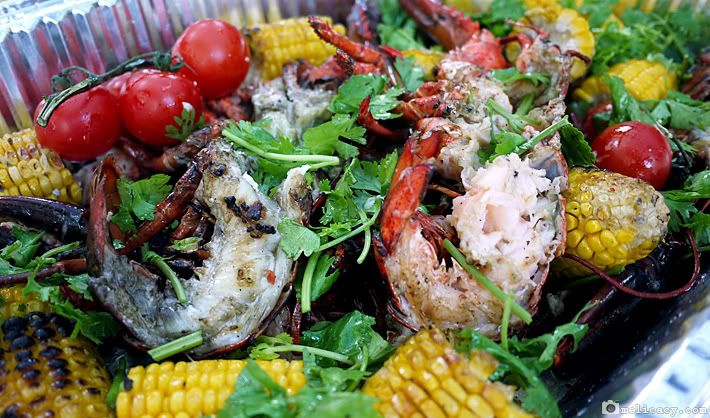 Jumbo-sized prawns and large juicy scallops were part of the seafood feast. Other seafood items include salmon, sambal stingray and squid.
When there's seafood, and there's steak, it's surf and turf style baby.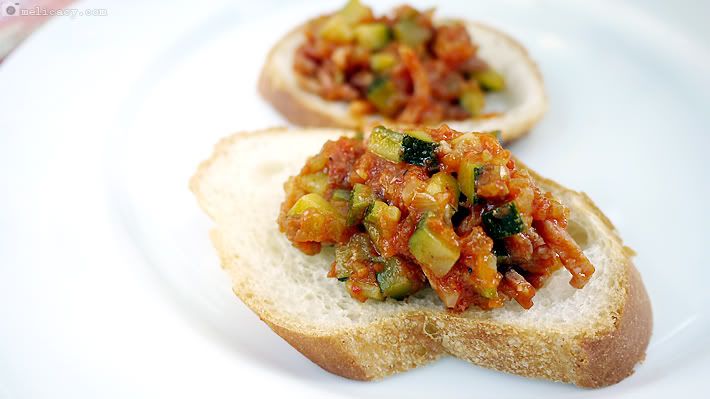 Alvin and Lobster contributed the Bruschetta; the topping was painstakingly made from scratch! This antipasto was so good, but it is even better after toasting the bread on the barbecue grill before rubbing it with garlic and piling on with toppings.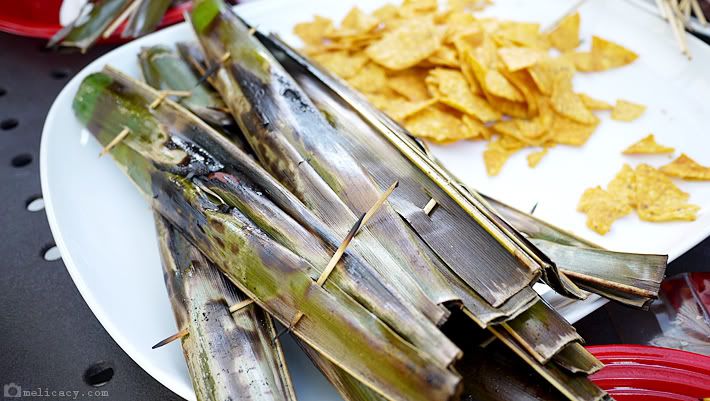 Otah and nacho chips.
Another highlight: tomatoes on the vine. Tomatoes that are left on the vine until they're fully ripened are undoubtedly top-quality.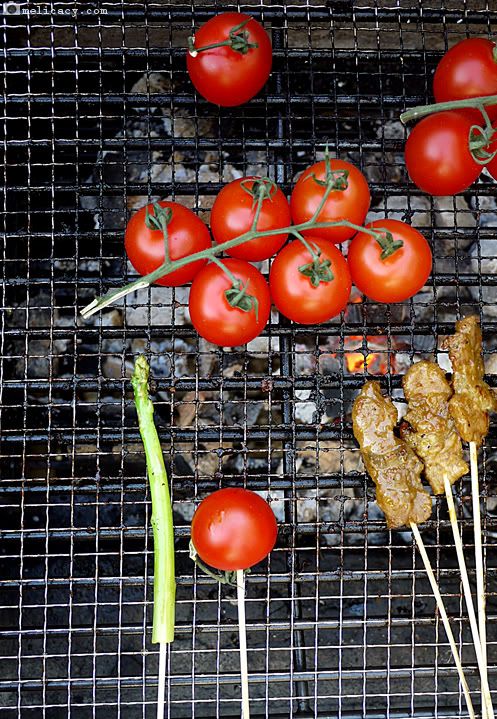 Derrick bought satays from Chai Ho. The highly raved stall is located at the Clementi 448 Market & Food Centre. The queue is dreadfully long; therefore you're advised to pre-order in advance to avoid queuing.
The meats are well marinated; they turn out succulent and moist with a crisp char if a deft hand handles the grill.
Chai Ho's Address: Blk 448, Clementi Ave 3, #03-10
Amongst the smorgasbord of scrumptious nosh, it was Jacob's Mac & Cheese that I indulged in the most. It is highly addictive! One of the best Mac & Cheeses I've ever had, for real!
And the aioli he made was nothing short of perfect. A wonderfully versatile dip; it was a perfect marriage with the grilled salmon and the steak.
Maureen and Daniel baked a Blueberry Cheese Cake at the "Never Too Busy To Cook!" workshop and they brought it to the party!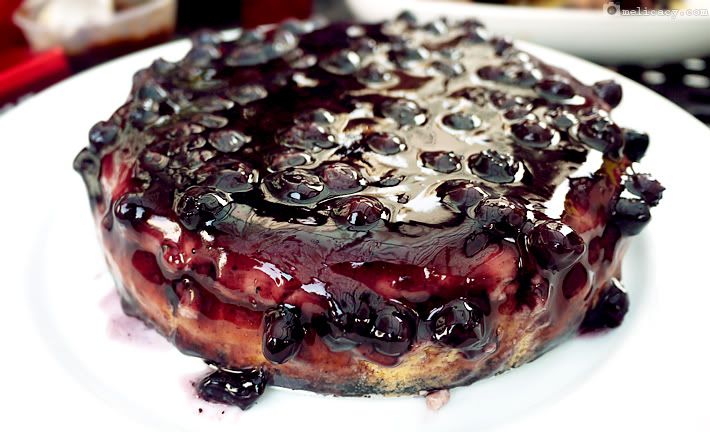 It was impressive. Everyone (those who knew nothing about the workshop) thought they bought it!
I also enjoyed Maureen's 'Complicated Thai Noodles', which I didn't manage to get a picture of because my hands were too busy with the food.
The sweetest memories of the feast had to be Hazel's 'creamy cheesy trifle'. Layers of textures include cream cheese, digestive crumbs, mascarpone cheese, walnuts and caramelised banana, all flavoured and accentuated with sugar and cinnamon. Thumbs up for the wonderful dessert!
The party was a great success, with everyone leaving with smiles and a belly full of food, and all looking forward to the next party.
Thanks for inviting me, moonberry! I had truckloads of fun :)