2 February 2012 – a bunch of bloggers were invited to a tasting session at Domino's, featuring the Double Loaded Chicken Pizza promotion! The session was held at the Kovan outlet; decked with comfortable sofa seats.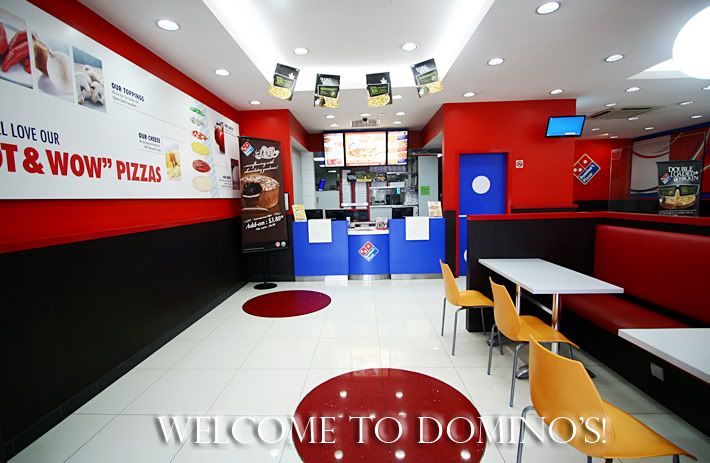 Its bright interior adopts a theme inspired by its logo, with basic hues of striking red, blue and white; its functional and uncluttered setting is appropriate for any party of mass gathering.
Just in case you didn't know (like yours truly, who thought that Domino's is an Australian brand just because I patronised it a lot when I was in Perth), Domino's is actually an American brand. There are currently 13 outlets in Singapore and almost a hundred in Malaysia, under a Malaysian franchise company –thus it's halal-certified in Singapore and Malaysia.
Here's a mini step-by-step 'tutorial' for the fuss-free online-ordering!

Order online at http://dominos.com.sg/
A quick look at the pizzas available: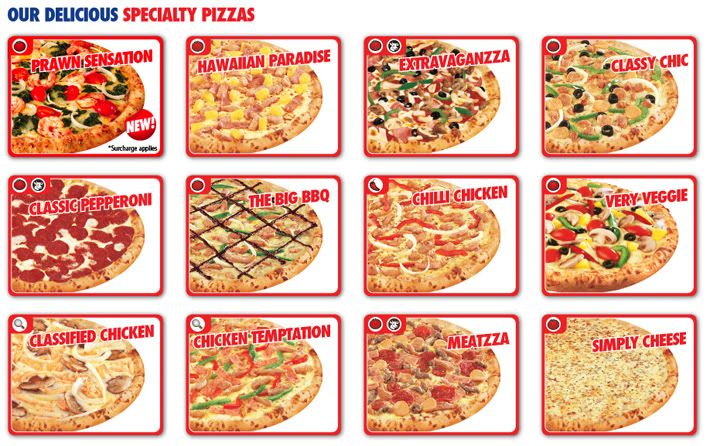 A selection of classic pizzas is available to suit different taste buds, with familiar flavours such as Hawaiian and Pepperoni.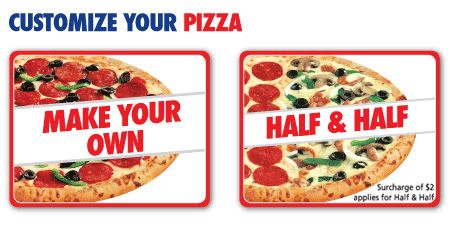 You can customise your own pizza if you're feeling adventurous!

1) Let's start ordering. Check out Domino's Deals for the latest promotions –the Double Loaded Meal is available for a limited period only, till the end of March 2012.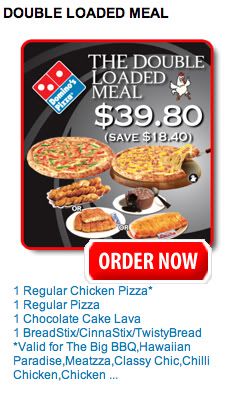 2) Now that you've chosen the Double Loaded Meal, choose your crust for the first pizza. Personally, I love the Crunchy Thin Crust –a great low-carbohydrate option! It is paper-thin and remained crisp throughout the entire meal; it is strong enough to hold the toppings nicely without breaking apart or turning soggy.
If you like your pizza with a substantial crust, go for the Classic Hand Tossed. The New York Curst is somewhere in between the Thin Crust and the Classic. Oh by the way, Domino's crusts are less oily compared to many pizza joints!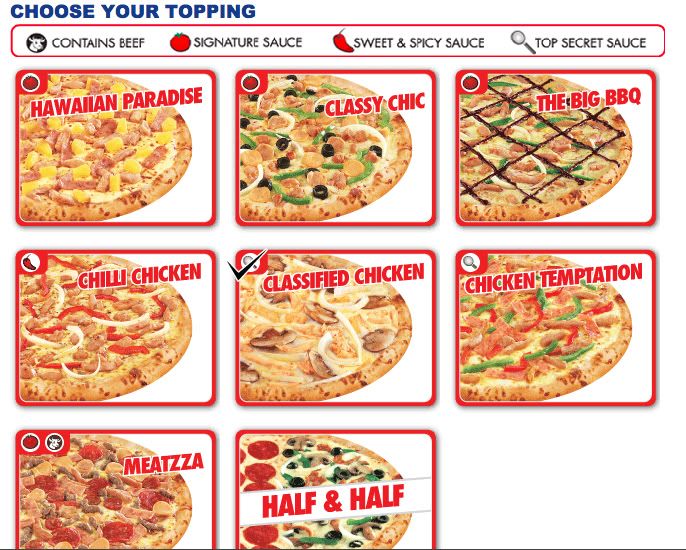 3) Next, choose your topping. If decisions get hard to make, opt for the Half & Half (surcharge applies). The chicken pizzas available for the Double Loaded Meal comes with double the amount of smoked chicken breast!
4) Click Confirm Selection on the top right hand corner and repeat steps 2) and 3) for your second pizza.

Cheese lovers, you know what to do when this pops up.

5) Finally, choose your side order. We had the Twisty Bread, consisting of 6 pieces of freshly baked garlic bread.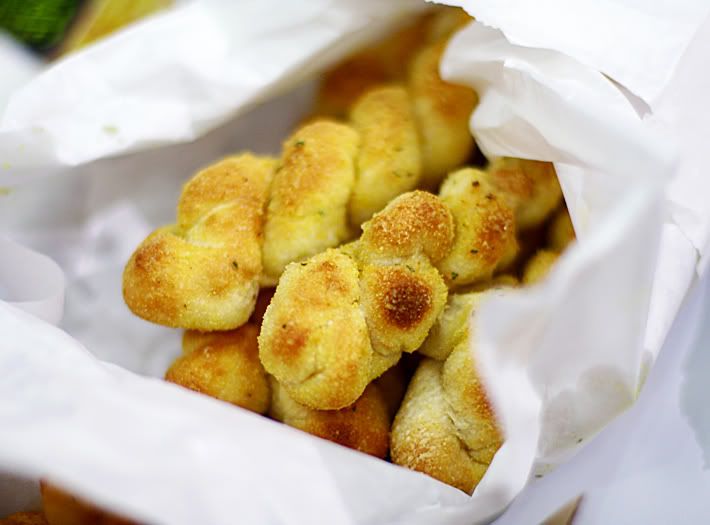 6) Final steps to confirming your order! Add to shopping cart.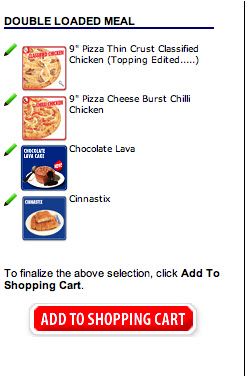 The price you see on the menu is what you will pay for; there won't be any additional tax or delivery charge!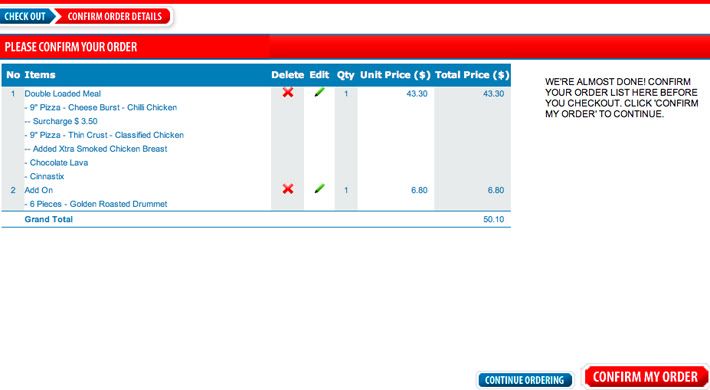 7) Confirm your order.

As soon as you confirm your order with a click of a button, your order reaches the nearest outlet immediately. If you are on site, you can actually hear the ringing bell whenever an order is placed online!
There is a 30-minute delivery guarantee; if your pizza doesn't arrive in 30 minutes, you receive free pizzas!
You are also allowed to pre-order 7 days in advance, with no extra charge! Just change the order date and time when you place the order, and they will give you a call on the actual day to re-confirm your order.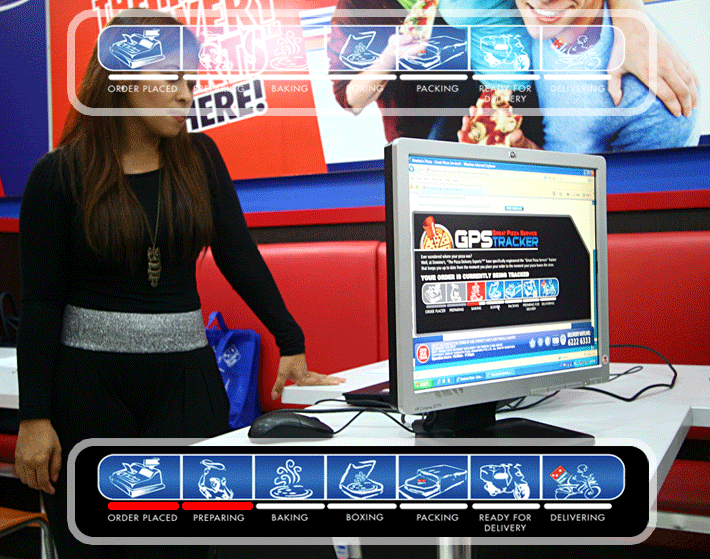 After you've placed your order, you are able to track it online via the GPS tracker, which stands for Great Pizza Service. For the anxious and hungry like yours truly, this is an awesome function to stalk every process of your pizza from the preparation to baking to boxing, all the way till it reaches your doorstep. Domino's staffs will update the status via a push of a button after completing each step, thus the accuracy is almost 100%!

Here comes the food!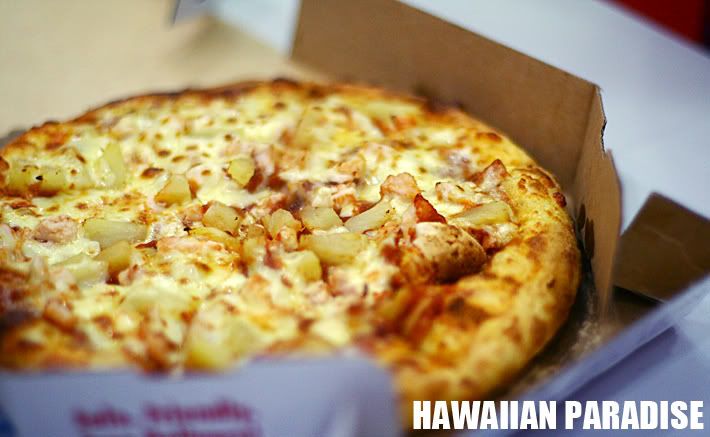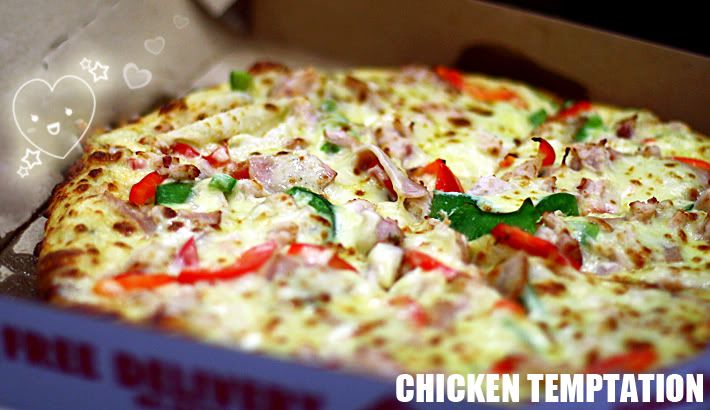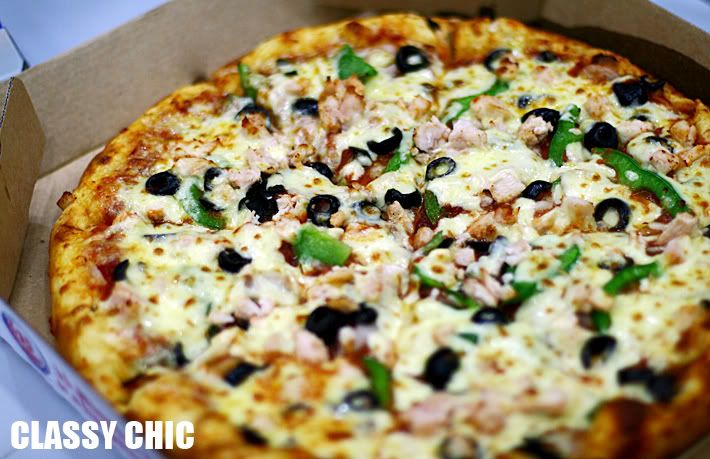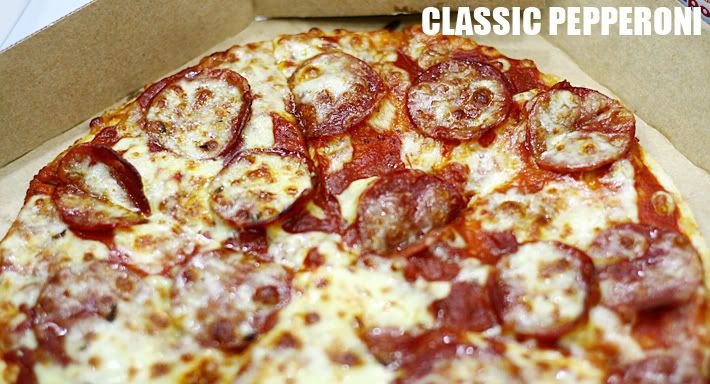 I've tried pepperoni pizzas at other pizza joints where the pepperoni dried out in the baking process and turned out tough. Domino's didn't disappoint!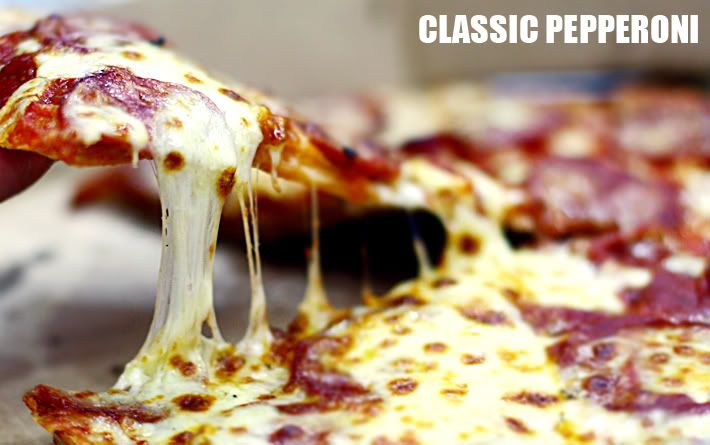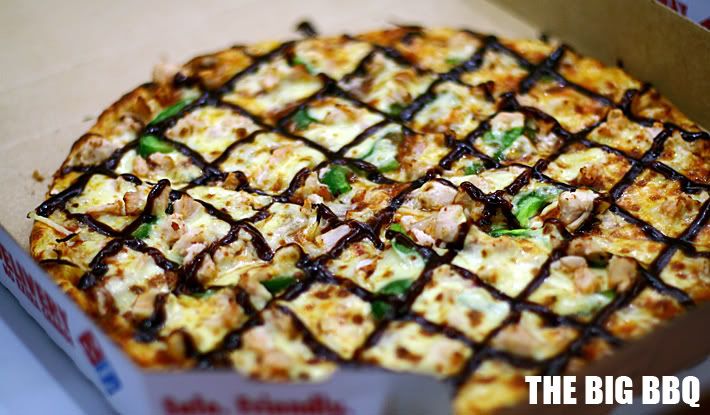 A popular favourite amongst the bloggers that evening has to be the Classified Chicken. We had it on a thin crust. The pizza is sliced into bite size squares instead of the conventional sectors–which is great for sharing. It was so irresistible that before we even knew it, the box was emptied!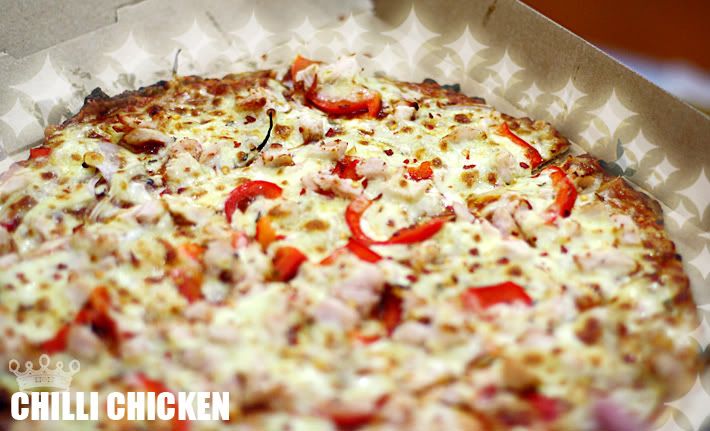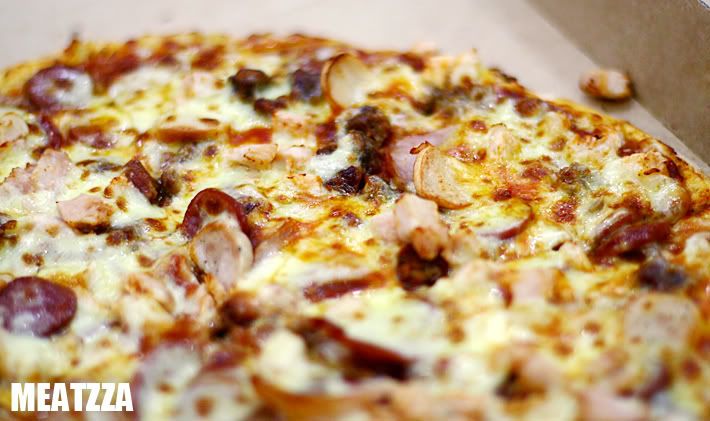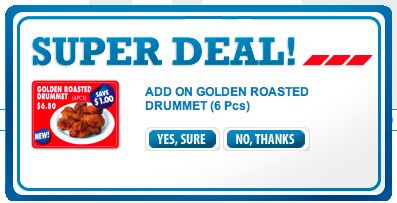 Golden Roasted Drummet ($7.80 for 6 pieces)
Save $1 with this super deal!

They turned out to be succulent and exceeded my expectations!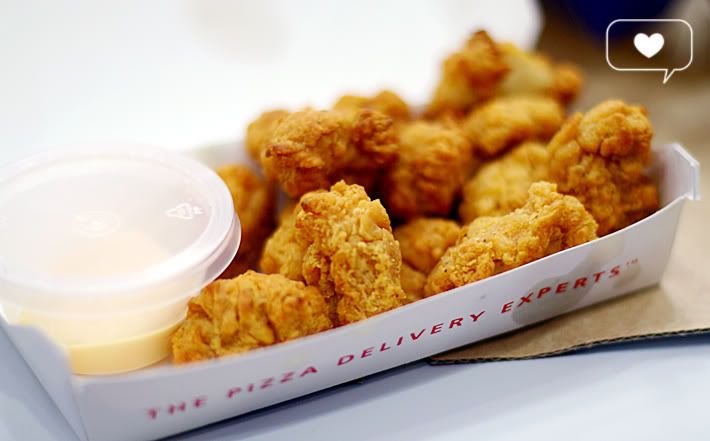 Crazy Chicken Crunchies ($7.80)
Tender pieces of chicken that comes with a cheese dip!

Garlic Cheese Onion Rings ($3.80)
The Garlic Cheese Onion Rings are immensely addictive. I'm actually really surprised that the onion rings aren't deep-fried. In fact, NOTHINGat Domino's is deep-fried! The kitchen isn't equipped with a deep fryer; all items are baked! I'm pretty sceptical about it though, since it turned out so crispy, and well, so delicious.
Dessert that comes with the Double Loaded Meal:

Their Chocolate Lava Cake isn't cloyingly sweet; a thin border of cake surrounds a pool of chocolate lava that flows infinitely as you dig into it. Chocolate lovers like myself will have no qualms finishing this despite having a heavy meal.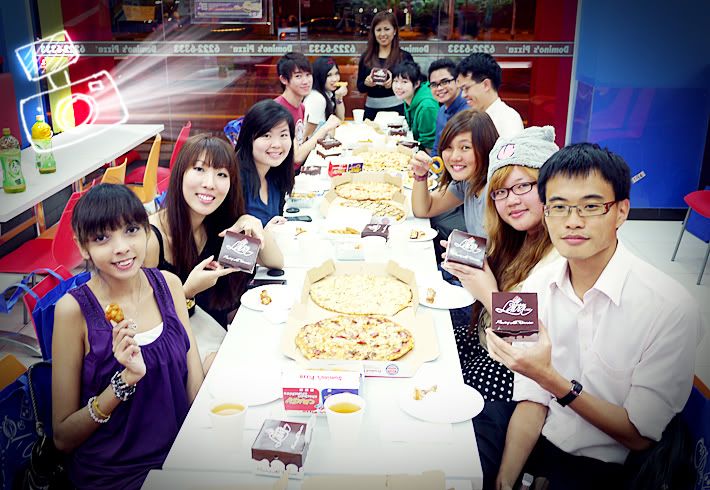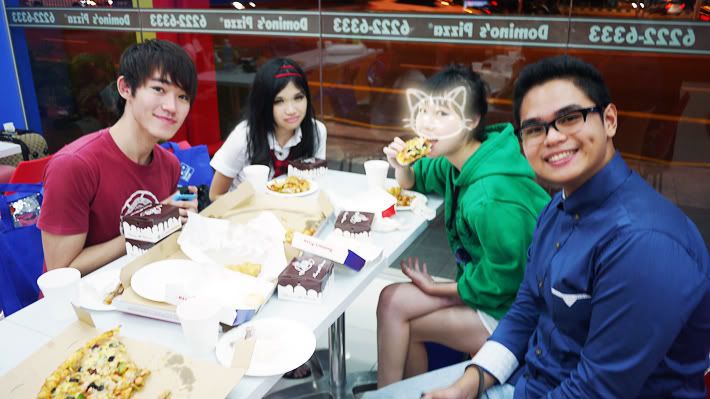 A couple of days after the event, I was craving for pizzas! It was during peak hours on a Saturday night, but since Domino's promises a 30-minute delivery, I thought I'd put their efficiency to the test and see if they can delivery their promise! (Pun intended?)
And, they did! The delivery guy arrived on the dot.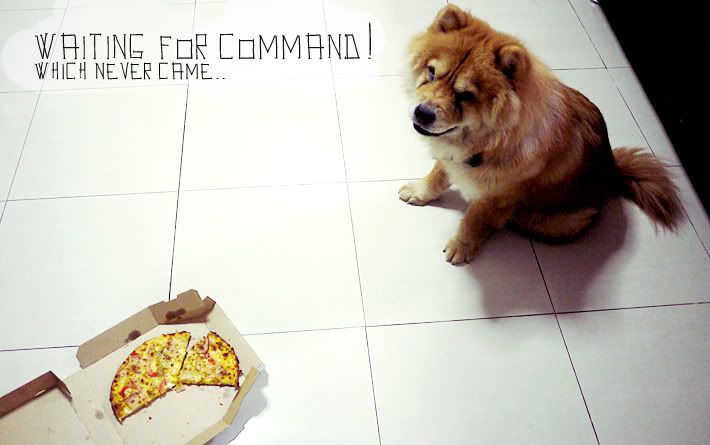 GIVEAWAY!
I have 2 Domino's calendars to give away! There are discount coupons on every page; which means you get monthly discounts for the entire year! Email me at femmelicacy@gmail.com to win it!
Thanks Omy.sg for inviting me to the event! Check out http://blog.omy.sg/blogclub for a consolidated post!
Domino's Pizza Singapore
(65) 6222 6333
http://dominos.com.sg