Fact: Domino's Pizza has over a whopping number of 9000 outlets worldwide, across 67 countries and counting. In Singapore and Malaysia, Domino's Pizza is Halal certified.
This is my second time at a Domino's Pizza event with Omy.sg. Do check out my first post at http://melicacy.com/?p=3302 where a comprehensive step-by-step tutorial will guide you through your ordering process.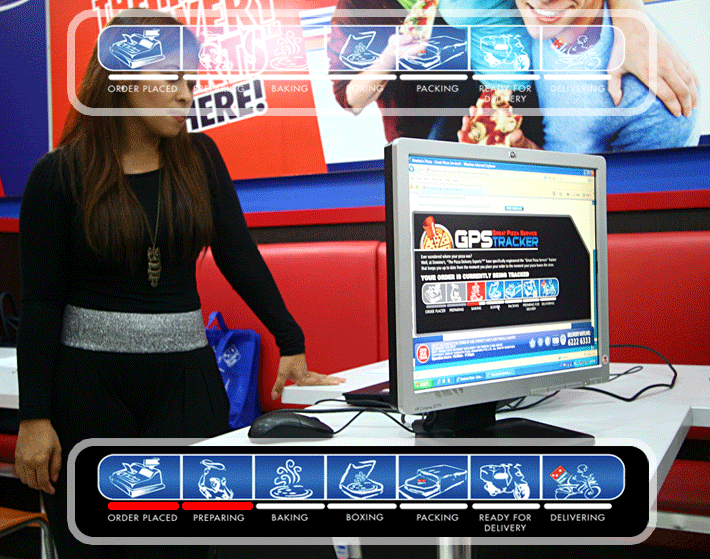 Domino's Pizza brings incredible value with new incredible meals with their new promotion, from as little as $10 per person!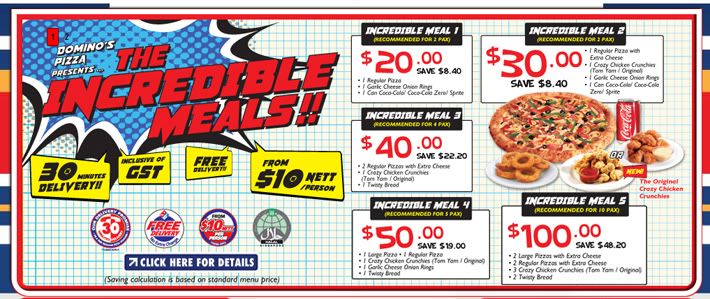 There are five different Incredible Meals, with savings ranging from $8.20 to $48.20. Meals begin from $20 for two persons, $30 for 3 persons, $40 for four persons, $50 for five persons and $100 for 10 persons.

Unbeatable Lunch Deal at $5 only:
Here's another noteworthy promotion going on that will save you $7.60 for each meal: At an affordable price of $5, you get 1 Personal pizza and 1 can of soft drink.
The promotion is available from 12pm to 5pm daily, valid for take away only.
New item on the menu: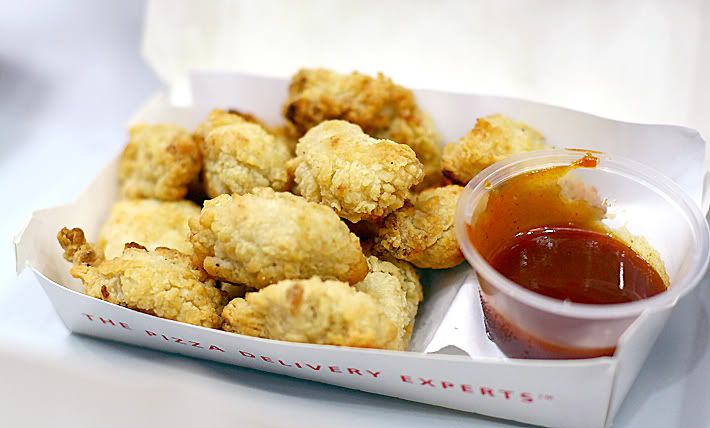 The new Crazy Chicken Crunchies, original flavour, is a variation of the Tom Yum flavoured Crazy Chicken Crunchies.
Paired with salsa sauce, the Crazy Chicken Crunchies is made with tender cuts of succulent chicken breast, marinated, breaded and finally baked.
The Marketing Manager, Linda, of Domino's Singapore/Malaysia demonstrated the procedure of online ordering, which is quick and incredibly easy.
As soon as your order is confirmed, it takes 2 minutes for the skilful pizza maker to stretch the dough evenly to the precise size and thickness, and adding the sauce, toppings and cheese, before the pizza spends 16 minutes in the oven. The rest of the time would be for delivery.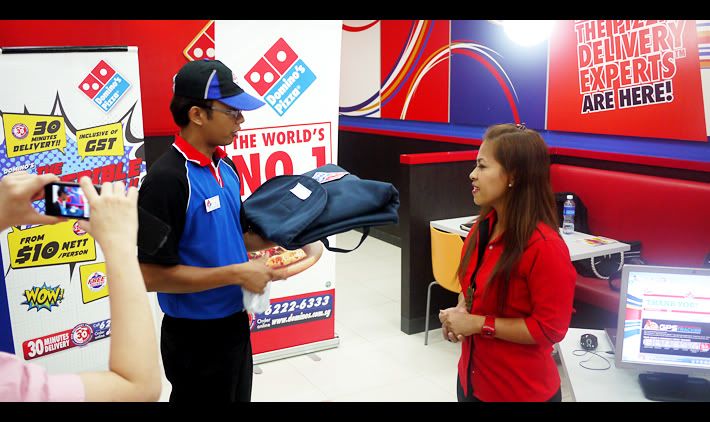 The online ordering system is wonderfully tech-savvy, especially when you can track the state of your pizza.
The pizza arrived in 20 minutes, possibly less, delivered to the lovely hands of Linda.
After all the photo taking, it was time to fill our peckish stomachs with the not-too-piping hot pizza that still kicks ass.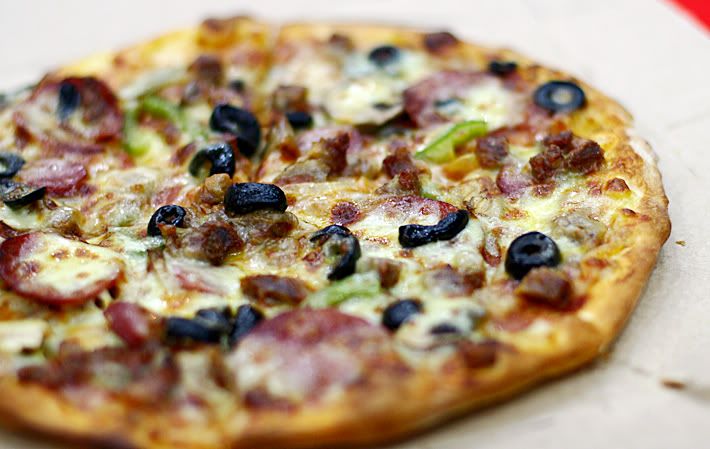 Classy Chic pizza
Pizza dough at Domino's is brushed with garlic infused oil prior to baking, lending a subtle aroma.
After tasting most of the pizza flavours, my perennial fondness for the Classified Chicken never declines. My second vote goes to the Chilli Chicken, followed by the Extravaganzza.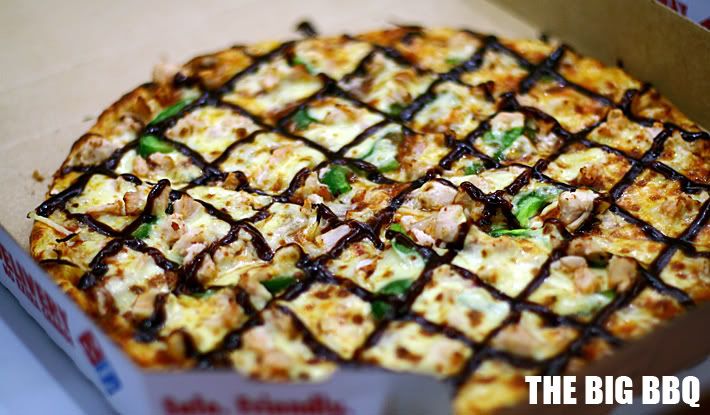 For something heavier on the palate, The Big BBQ pizza will whet your appetite with the intense BBQ sauce.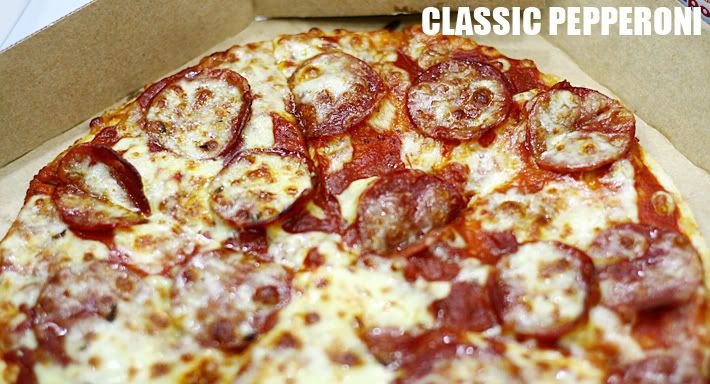 The Beef Pepperoni pizza is one of their best sellers!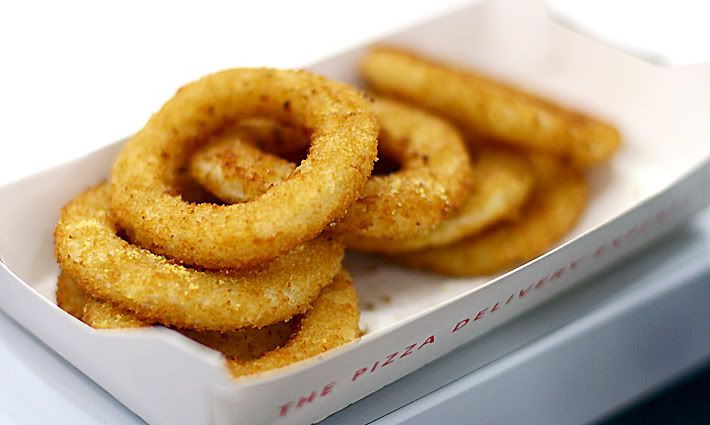 Garlic Cheese Onion Rings ($3.80)
The Garlic Cheese Onion Rings is my all-time favourite! I would never fail to include that in my 'cart' whenever I'm ordering from Domino's.
I'm still in utter disbelief that the onion rings are not deep-fried.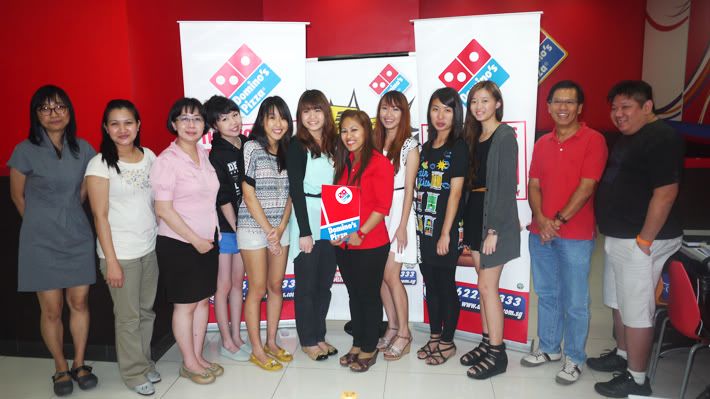 Happy and contented bloggers with a tummy-full of pizza!
It is always to my endless delight to come across perks. For every online purchase, you receive a free side order. When your pizza is delivered to you, it will come with a discount coupon where you can enjoy more savings in your future purchases.
Domino's Pizza gets one tick for efficiency and speed, a second tick for customer satisfaction and another tick for obtaining maximum value for money spent.
Despite having to meet the 30-minute home delivery guarantee, the quality will not be compromised. Pizzas arrive hot and intact, and if the quality isn't up to standards, you get a free pizza voucher worth $10.80 for your next purchase.
Note: Delivery is free, and prices are all NETT; there are no hidden costs.
Thanks Omy.sg for inviting me to the event!
Domino's Pizza Singapore
(65) 6222 6333
http://dominos.com.sg