Having visited The Square previously, representing Sparklette for a review, I returned again for more –this time with my lovely friends Hazel, Derrick and Celes.
What left the deepest impressions during my previous visit were the Risottos, Chocolate mousse and Durian Pengat. I also overdosed on their Potato Salad during my last visit –which has mysteriously disappeared from the spread. *sad!*

Here are some of the items that I tried this time round: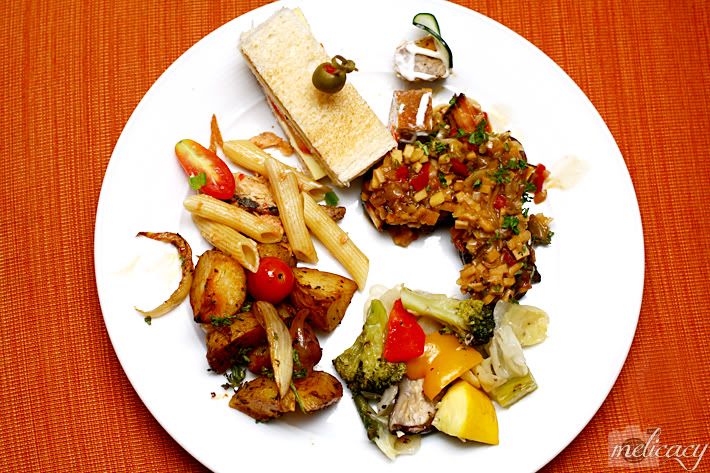 Clockwise: Club Sandwich, Fish with Mango Salsa, Mixed Vegetables, Roasted Potatoes and Pasta Salad.
Buffets will be mundane if all the items remain the same 365 days a year –thus the slight variation in their offerings. Signatures such as the Risotto will perpetually remain on the spread (unless they decide to sever all ties with their die-hard risotto fans one day).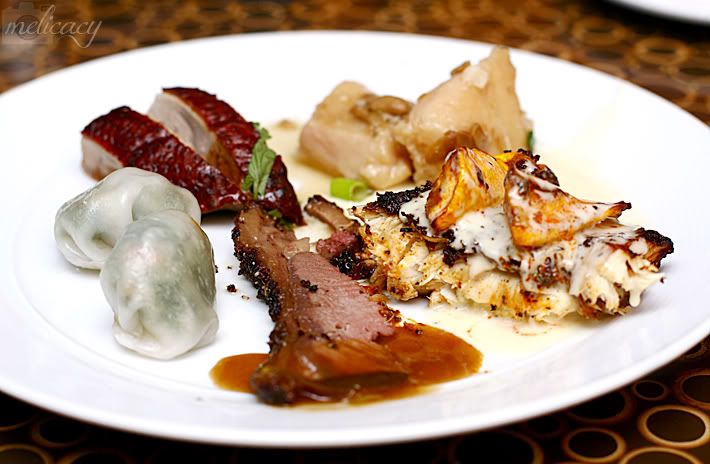 Clockwise from 9-o'clock: Dim Sum, Roasted Duck, Braised Fish, Baked Sea Bass and Roasted Beef.
Carnivores will take pleasure in the Roasted Beef, Lamb and Duck.
Asian delights include Chicken Curry, Fried Rice, Mee Tai Bak, Eggplant and Dhall.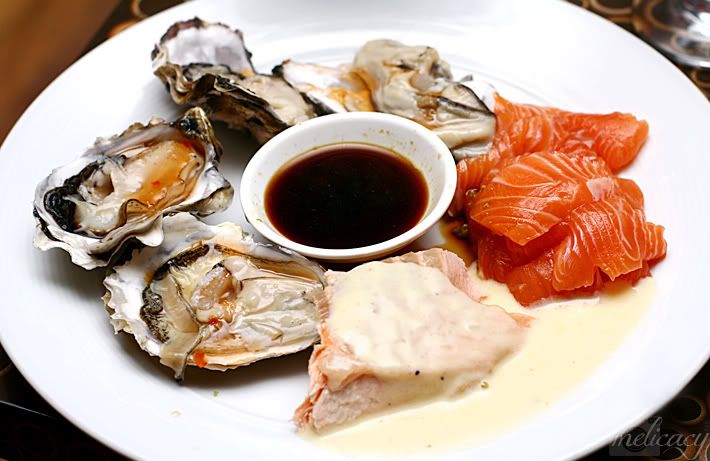 If you know me, you'd know that I've never liked Oysters. At buffets, I wouldn't consider placing a mollusc on my plate.
But here, after hearing all the raves about how big and juicy the oyster is, I decided to give it a try. I fell in love immediately. It is indeed fresh, plump and juicy –I never thought I would like it, but I was won over.
They replenish efficiently, so no worries about piling up the entire plate with oysters.

French Onion Soup, Lotus Peanut Soup
Soups of that day were French Onion Soup and Lotus Peanut Soup. I say skip the Chinese soup and just go for the French Onion Soup.
The French Onion Soup is so, so comforting; it is tremendously tasty, with soft onions that melt in your mouth. I had three bowls.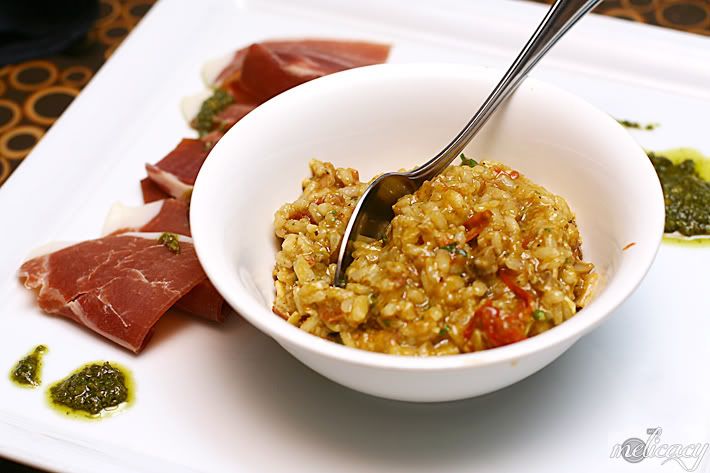 Cheese Risotto
The Cheese Risotto was, once again, the highlight. Available at the live station, the risotto of your choice will be prepared upon order and served to your table piping hot.
During my previous visit, we had a customised Laksa Risotto, which blew our mind. I ordered it again, but this time round it wasn't the same as before –or how I remembered it to be. Admittedly, my high expectation is liable for the slight disappointment. But I noticed slight differences in terms of ingredients (beansprouts are added) and the intensity of laksa (it is milder this time round).
The Cheese Risotto is a clear winner. If anything, I feel the risotto can be further aggrandised with a touch of truffle oil. But, for buffet standards, the risotto will exceed your expectations stupendously.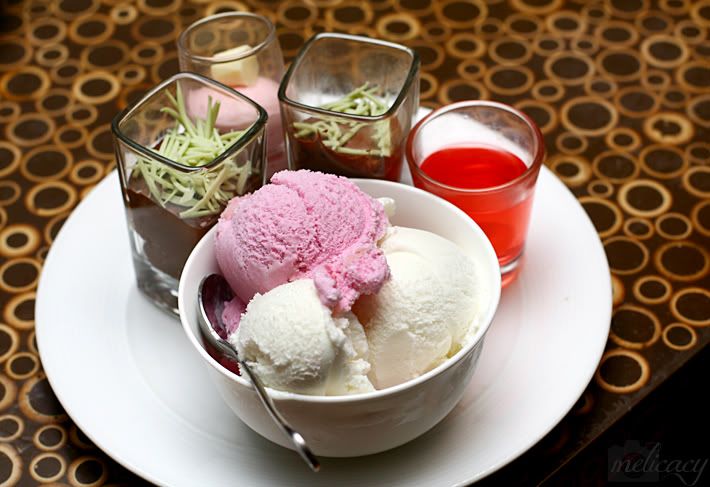 Amongst the assorted mousse and jelly, the Chocolate Mousse is to-die-for. It is sinfully rich, and leaves you yearning for more.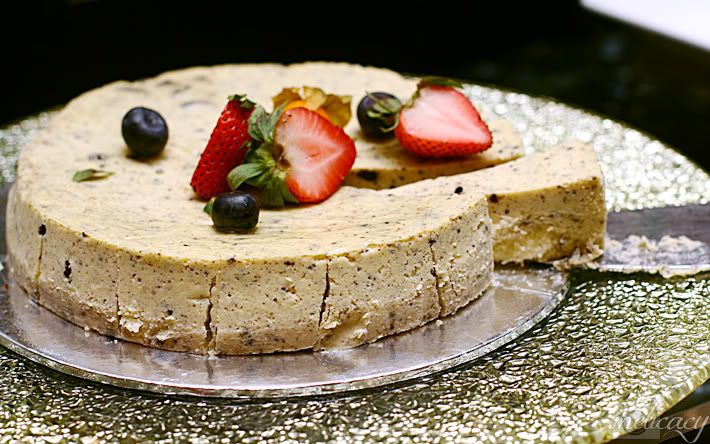 Oreo Cheesecake

Apple Brownie Tart
The Apple Brownie Tart (I made up that name because I can't remember what it's called!) is basically a tart with a chocolate brownie-like filling, topped with sliced apple. A little on the heavy side, but the apple does a fine job in offsetting the density.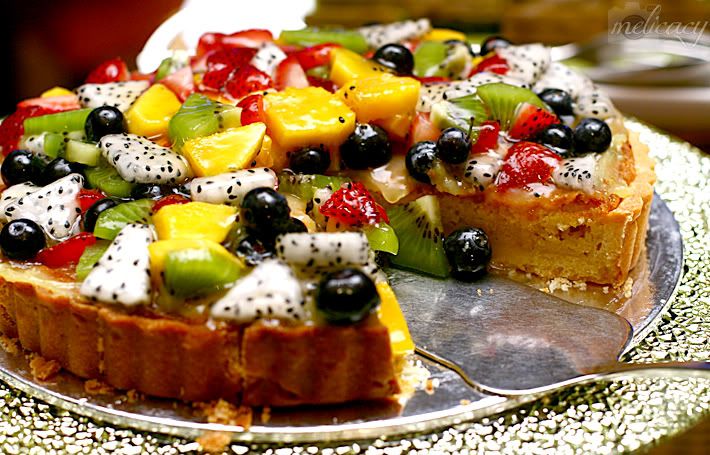 Fruit Tart
You can skip the Apple Brownie Tart but you've got to try this. I know, it is just fruit tart right? But it's perfectly executed, and the sweetness is just right. It left me wanting more.

Pink Giant Rainbow Cake (I forgot its actual name)
This enormous 8-layer cake is an attention-seeking fella –pink on the inside, and covered in rainbow sprinkles. It tastes as pretty as it looks, though nothing spectacular; it is sufficiently sweet and moist.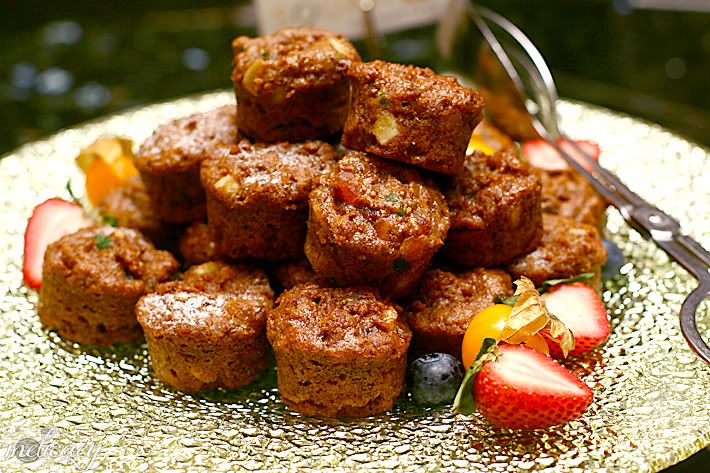 Mini Bran Fruit Cake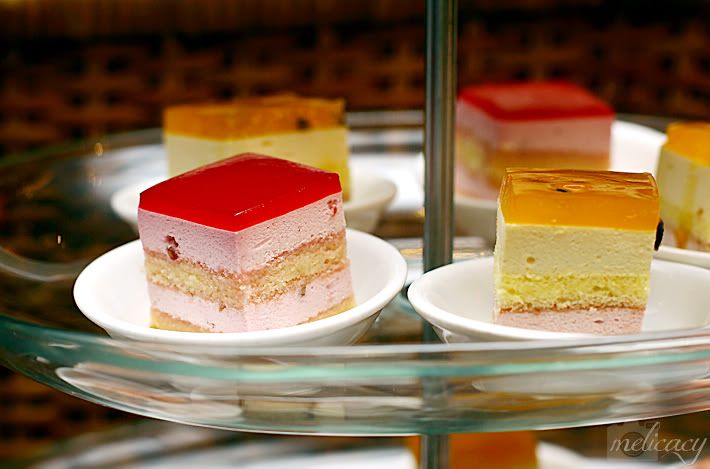 Mini French Pastries
The mini cakes are soft and extremely light –a huge contrast to the dense Mini Bran Fruit Cake.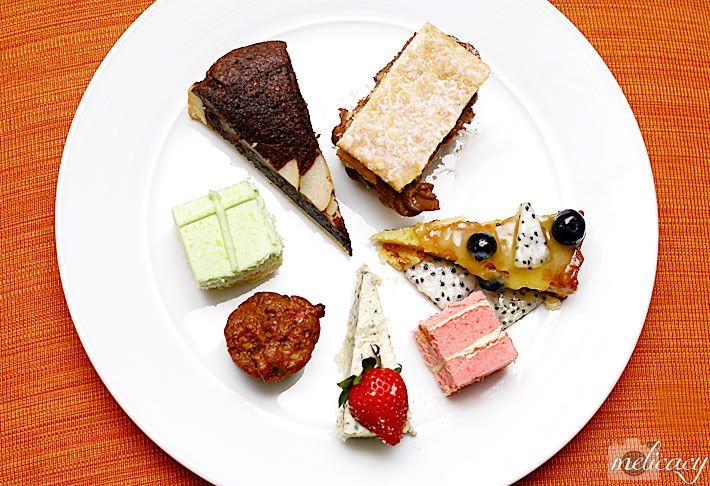 Clockwise starting from 9-o'clock: Green Tea Chestnut Mousse Cake, Apple Brownie Tart, 1 Meter Mille-Feuille, Fruit Tart, Strawberry Cake, Oreo Cheesecake, Mini Bran Fruit Cake.
The Durian Pengat, like how I remembered it to be, was superb. Generally, I don't love the durian fruit because of the stench, but I love the taste of it. The Durian Pengat is perfect, because it isn't stinky. There is a hint of Gula Melaka. My sweet tooth says, "Hell yeah!" I had three bowls of it.
A la Carte Menu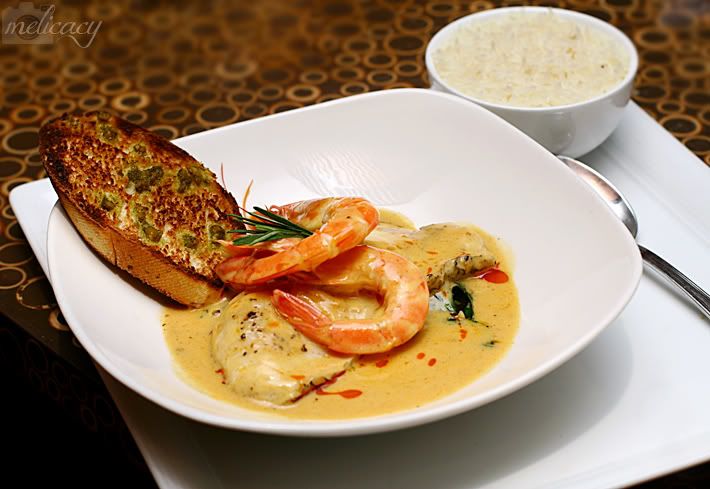 Cod Fillet in 'Laksa' Broth, served with Chicken Rice ($34)
We tried an item from the a la carte menu that is not included in the buffet spread –the Cod Fillet in 'Laksa' Broth. The taste of conventional laksa is mild, but the distinctive aroma from the herbs – typically detected in laksa – is present. The cod is wonderfully tender and flaky.
On the two separate occasions, my experiences at The Square were pleasant –especially so with wonderful companions. Can't wait to go back for more!
Buffet pricing:
Dinner (Sun-Thur): Adult – $48++, Child – $30++, Senior Citizen – $30 nett
Website: http://www.thesquarerestaurant.com.sg/
The Square Restaurant
Level 7 of the Novotel Clarke Quay Singapore
177A River Valley Road,Singapore, 179031
Tel : +65 (0) 6 3383333
Fax : +65 (0) 6 3392854