After its S$80 million makeover, Shangri-La's Rasa Sentosa Resort unveils a spanking new layout and a new dining concept –"Dine On 3".
The revamp must be pretty drastic since it is beyond recognisable for someone who's never been there for 5 years –I blushingly admit that I happen to be in that position.
My parents used to bring my sis and I to Sentosa for staycations when we were younger. We used to stay at both the Rasa Sentosa Resort and Beaufort (The Sentosa Resort & Spa) but more frequently at Rasa Sentosa Resort.
We favour Rasa Sentosa Resort for it is the only beachfront resort in this metropolitan city-state –great for a weekend getaway.
I have fond memories of the resort, especially at the balcony, where the magnificent view of the Siloso Beach and the South China Sea never fails to mesmerise.
The very façade of the resort building (minus the revamped area) brings back lots of memories. Back then, we dined at the Silver Shell Café at least twice a year –it used to be a regular affair until our family broke apart. (Oops, what I actually mean was: everyone's gotten so busy that we hardly spend time together anymore.) Upon entering the vicinity, a whole series of memories flashed through my mind.
After the revamp, the dining area, rebranded as "Dine On 3", features three restaurants – Casserole, Silver Shell Café and 8 Noodles – and a bar under one roof, serving up a variety of dining experiences and cuisines.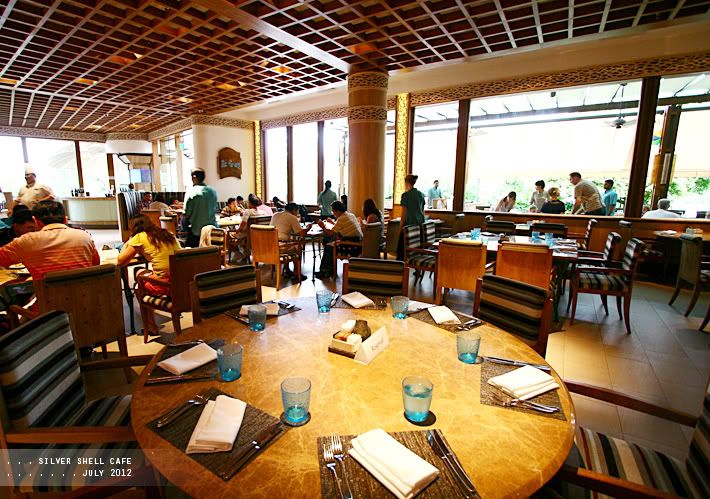 The Silver Shell Café looks nothing like the old one that we used to frequent. When I checked in on Foursquare, my sis immediately whatsapped me (all the way from Australia), telling me how much she misses the place! Her memory is superb. I didn't even remember the name of the restaurant!
Wednesdays: Meet the Meat at Silver Shell Café
From June 2012, Silver Shell Café presents Meet the Meat on every Wednesday evening. Meat lovers can revel in an array of poultry, beef, lamb and sausages prepared in various methods –roast, tandoori, grilled and barbecued.

Featuring chefs in action at live cooking stations preparing a la minute buffet specialities, the uncompromising quality of food will receive nods from the most discerning diners.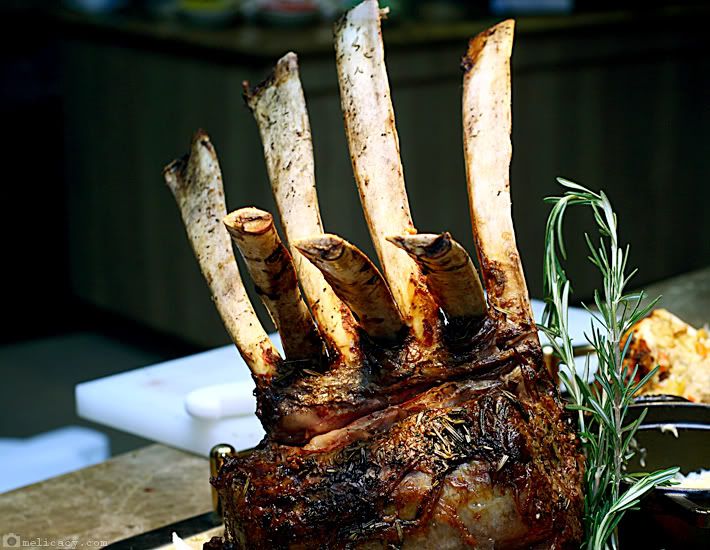 Slow Roasted Tomahawk Beef Ribs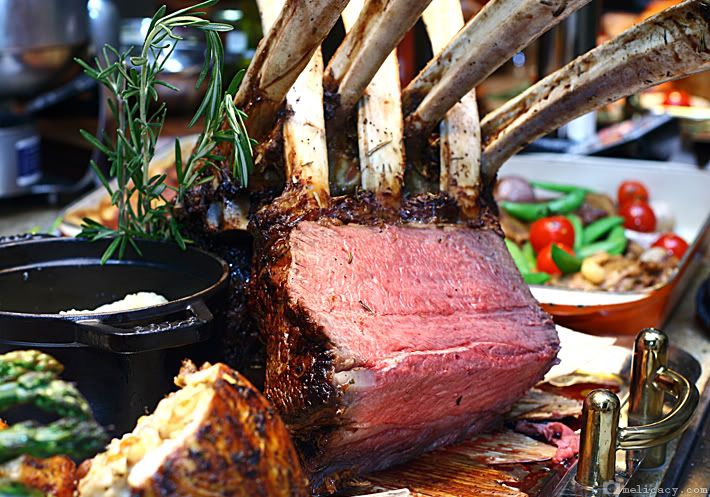 Caption: #NSFV (Not Safe For Vegetarians)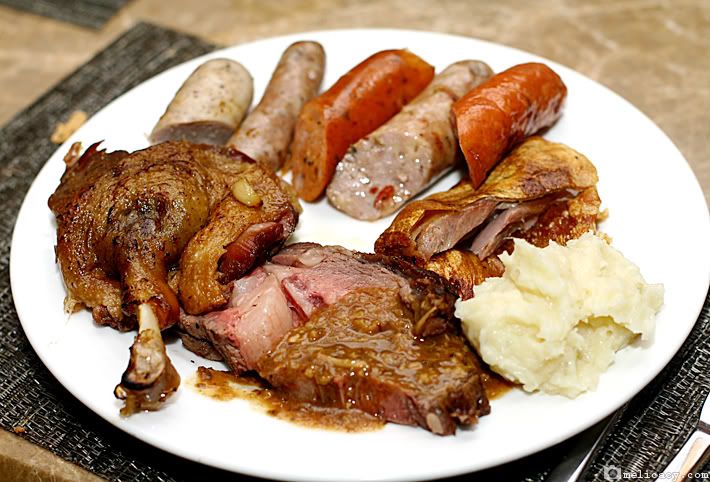 Foreground: Duck Confit, Slow Roasted Tomahawk Beef Ribs, Mashed Potatoes
The Slow Roasted Tomahawk Beef Ribs is sliced just before serving; the meat is well rested, evenly pink throughout, tender and juicy –sealed within a crisp char on the surface.

Roasted Grain Beef Tenderloin
The Roasted Grain Beef Tenderloin is packed with rich meatiness and has little fat –perfect for chomping. It is sufficiently tender, but you are free to dress it up in your favourite condiment for extra moisture.
I paired it with a red wine sauce, which complements the meat beautifully.
Other condiments available include Honey Mustard, Coleman Mustard, Dijon Mustard, Horseradish, Mint Sauce, Mango Chutney, Mint Chutney, and more.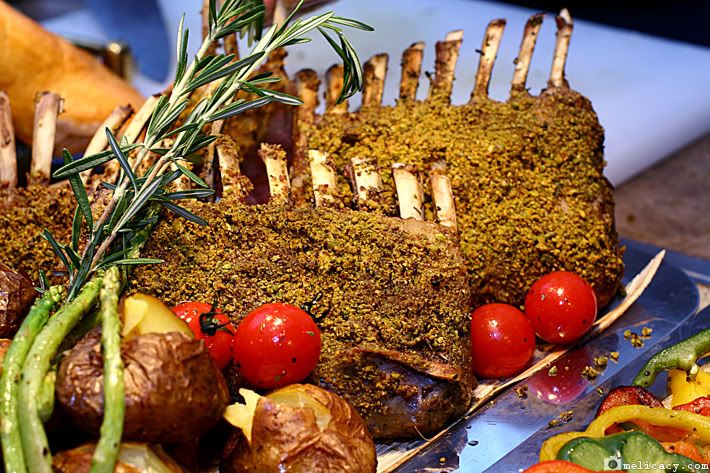 Australian Lamb Racks
I don't mind a rare piece of meat as long as it is palatable and melts in the mouth.
I loved the lamb so much that I've gotten back for a second serving.
The second serving, however, disappointed with a texture slightly too chewy for my liking; it is rare to the point where the connective tissues and fat are not entirely broken down.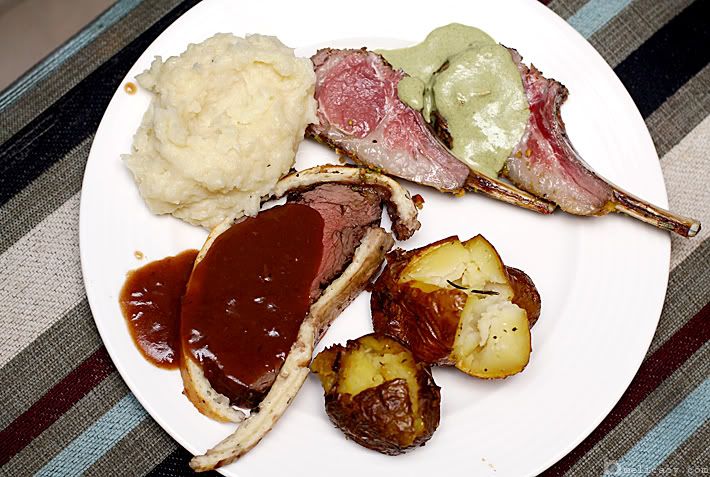 Roasted Grain Beef Tenderloin, Mashed Potatoes, Australian Lamb Racks, Roasted Potatoes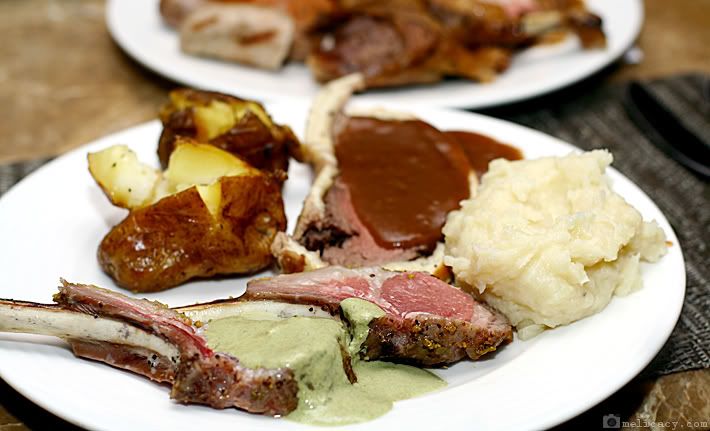 The first serving – that I enjoyed immensely – was nicely pink and tender with a good ratio of fat to meat. The best part is, there is no unpleasant gamy smell.
I paired the Australian Lamb Racks with Mint Chutney –it works beautifully.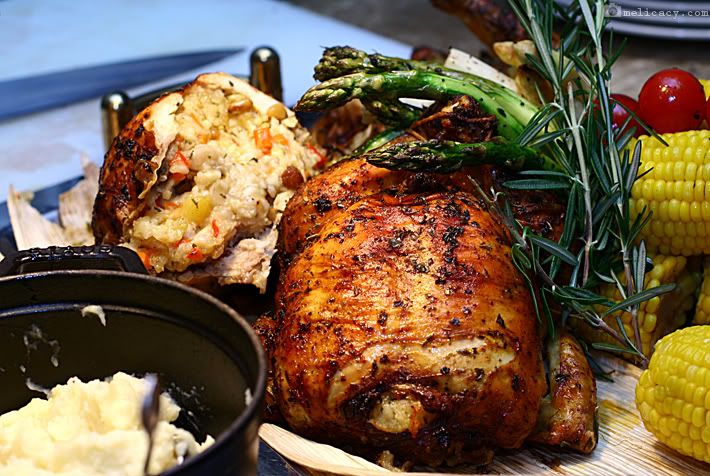 Roasted Chicken with Risotto stuffing
Chicken is the last thing that I expect to be wowed by – since the lavish spread of red meats took centre stage – but it is vastly underrated.
I'm usually more inclined toward chicken thighs for that juiciness, but when I was offered the cut from the chicken breast, I was taken by surprise.
The chicken is incredibly tender and flavourful. The Risotto stuffing is just genius; it is infused with all that goodness from the chicken.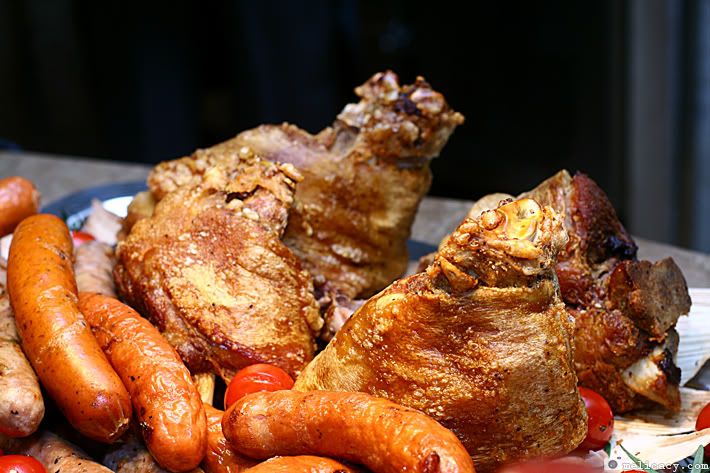 Roasted Pork Knuckles

Foreground: Selection of Grilled German Sausages, Duck Confit
There are five different kinds of grilled German sausages. I have a weakness for cheese sausages!
The Duck Confit is one of the highlights. The meat is meltingly tender and falls off the bone with ease.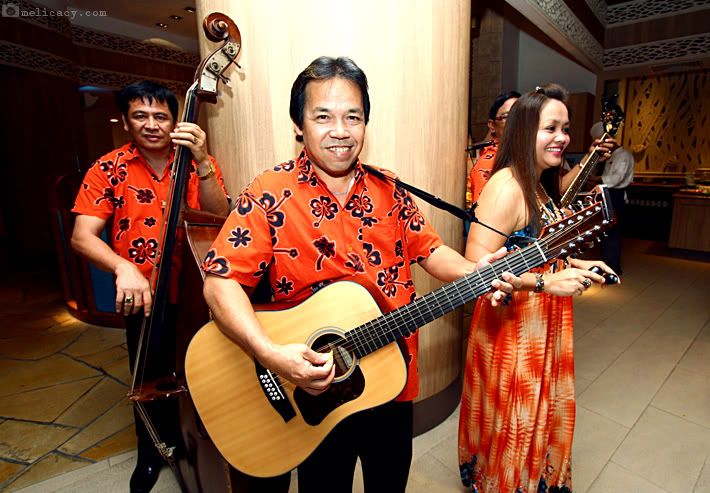 Musicians entertain the crowd with upbeat music, encouraging diners to sing and clap along. For a moment, I felt like I was on a holiday!

Hot & Sour Chicken Soup
Take a break from the meat feast and check out the rest of the buffet spread. There is a salad bar, an Asian corner and a Kid's Corner.
I love soups! Run-of-the-mill buffets tend to serve diluted soup that lacks flavour other than salt –you can tell it from the first sip.
The soup of that day was Hot & Sour Chicken Soup, and I had 3 bowls of it –by that you know it's gotta be good. It is thick and packed with flavours.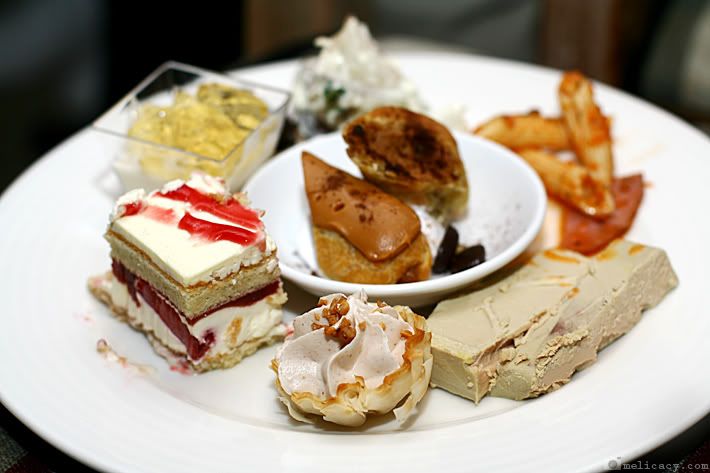 Since it is a buffet, there are no rules as to what you put on your plate. You can start with dessert and end with appetiser.
Psst, there is Foie Gras Mousse available at the Salad Bar! Salads include Potato Salad, Seafood Salad, Smoked Duck Salad, Air Dried Beef and Pasta Salad.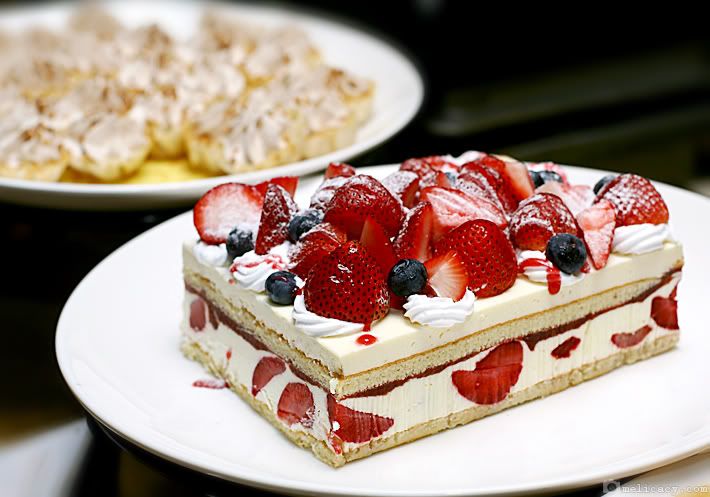 Strawberry Shortcake
I love cakes with LOTS of cream! This one definitely satisfies.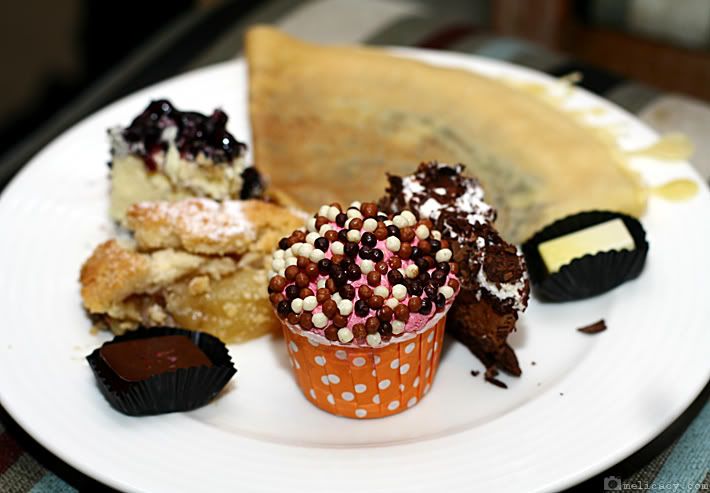 Other sweet treats include Cupcakes, Assorted Pralines, Apple Flan, Cheesecake, Chocolate Truffle and Crepes made upon order.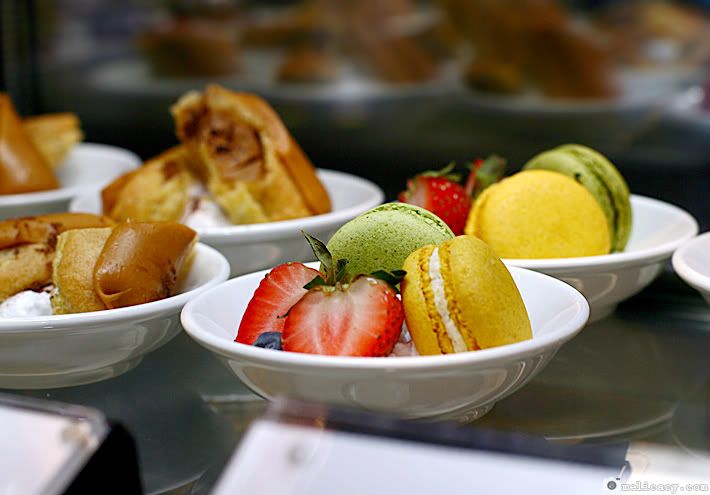 The Mocca Éclair is a must try! The Green Tea Mousse is another dessert that I cannot get enough of.
Silver Shell Café's buffet was excellent in quality, variety and service. Highly recommended!
Silver Shell Café
Meet the Meat: Every Wednesday 6pm-10pm
Pricing: Adult $58++, Child (6-12 years) $25++
For more information, click here: http://www.shangri-la.com/singapore/rasasentosaresort/dining/restaurants/dine-on-3-silver-shell-cafe/