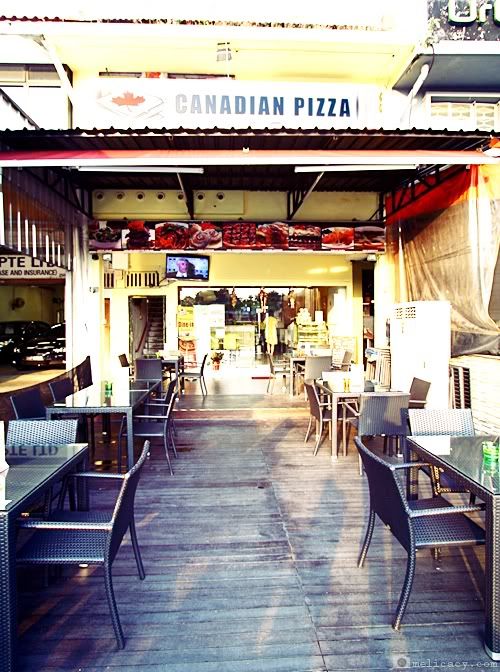 Whenever someone mentions Canadian Pizza, '6241-0241' inevitably echoes behind –which is their hotline, derived from their well-conceived tagline, '2-for-1 pizza'.
Canadian Pizza Dine-In, located at Jalan Kayu, serves more than just pizza.

The layout of the restaurant is laid-back; if not for the bustling main road just outside the entrance, the al fresco dining area could give diners a sense of tranquillity.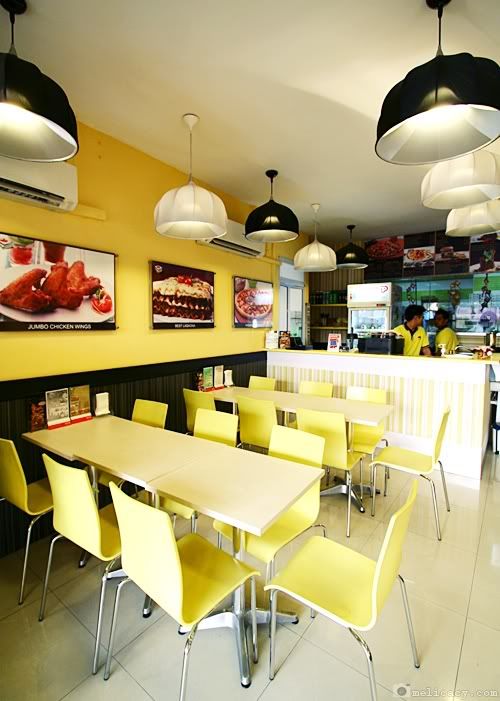 Indoors, walls are painted a cheery yellow, and adorned with picture frames encasing drool-worthy 'food porn'.
The menu is so widely varied, you would never think of associating this restaurant with Canadian Pizza if not for its title.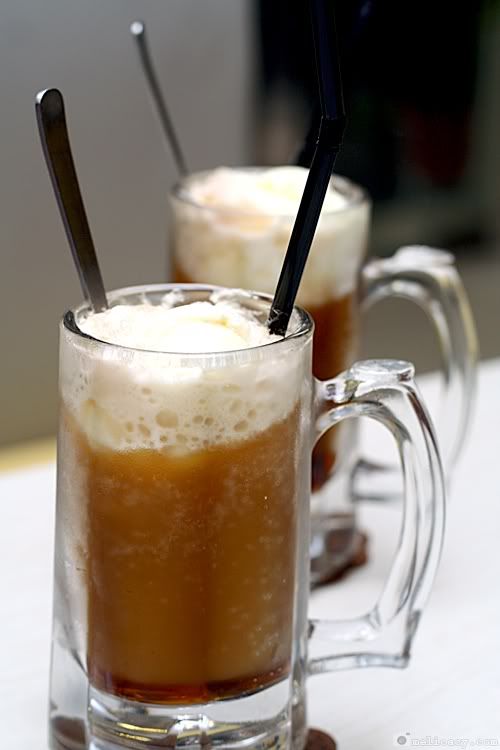 Root Beer Float ($4.50)
In 2003, the closure of all A&W outlets in Singapore sparked widespread outrage –I remember fondly of their Root Beer Float. Good to know that A&W is not the only place you can find this beverage. You can also opt for a 7-up Float or Pepsi Float here.

Foreground: Cream of Mushroom ($4.50). Background: Cream of Tomato ($4.50)
Soups are made in-house. The Mushroom Soup for instance is thick, with pureed mushrooms that provide a desirable earthy aroma. Love it!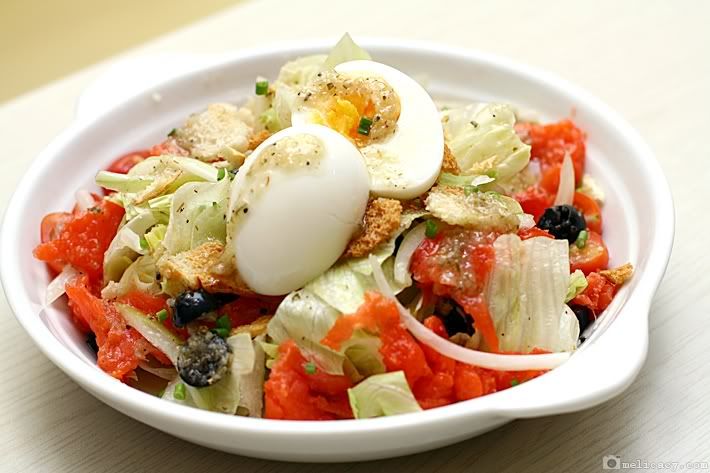 Smoked Salmon Salad ($8.80)
Smoked salmon, onion, lettuce, black olive, tomato and bread crumbs
The Smoked Salmon Salad is not to be overlooked, despite its somewhat sloppy presentation. It comes with a generous portion of smoked salmon in a jumble of varying textures. I had no problems wolfing down my much-needed fibre.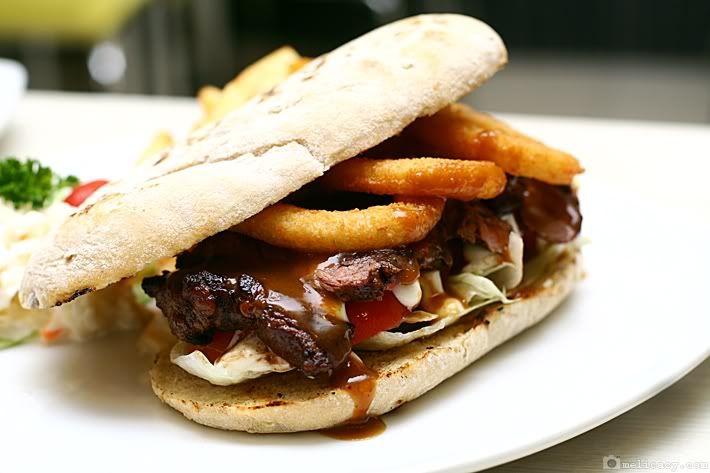 Steak Sandwich ($13.90)
Grilled beef, onion rings, lettuce, tomatoes and brown gravy
For sandwiches, I enjoyed the Steak Sandwich. I love onion rings, thus it was to my endless delight to find them in the sandwich. Great combination. The beef is tender, while the scrumptious gravy teams well with the protein.

Baked Macaroni ($9.50)
Served with garlic bread
The Baked Macaroni is decent, though it could do better with an additional dose of seasoning, which I think they unintentionally left out. Fresh herbs are added for the extra punch, which subliminally cuts the richness of the cream base.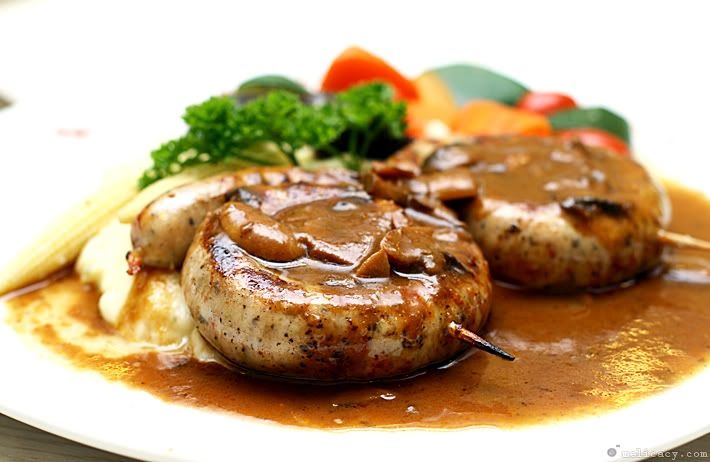 Fresh Sage Sausage ($13.80)
Served with mashed potato and grilled vegetables
The Fresh Sage Sausage is one of my dining partner Derrick's favourite dishes. I'm surprised their sausages are made from scratch. Another option would be the Spicy Mexicano that I'd love to try on my next visit.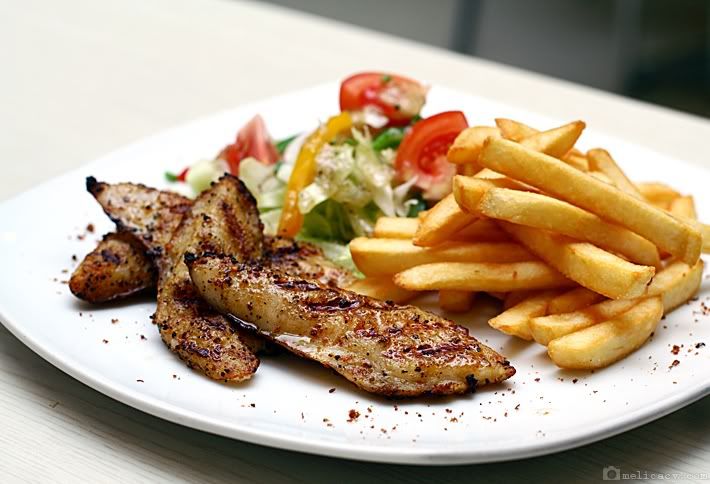 Grilled Cajun Fish ($16.90)
Served with salad, fries, lime mayonnaise
The Grilled Cajun Fish is a personal favourite. The moist, tender fish comes with a smoky char that appealed with a robust flavour –well executed.

Crazy Canadian Stacker ($14.90)
Double patties, grilled bacon, lettuce, tomato, onion rings, cheese & fries
The Crazy Canadian Stacker burger is huge. The thickness of each patty is equivalent to about 3 normal patties you get at fast food joints. Doneness of patty is 'well-done' by default, but we requested for 'medium rare' and it turned out moist and juicy.

Peri Peri Chicken ($16 for half a chicken)
Served with salad and fries
The Peri Peri Chicken didn't disappoint. The meat is wonderfully tender and moist, underneath a crispy skin.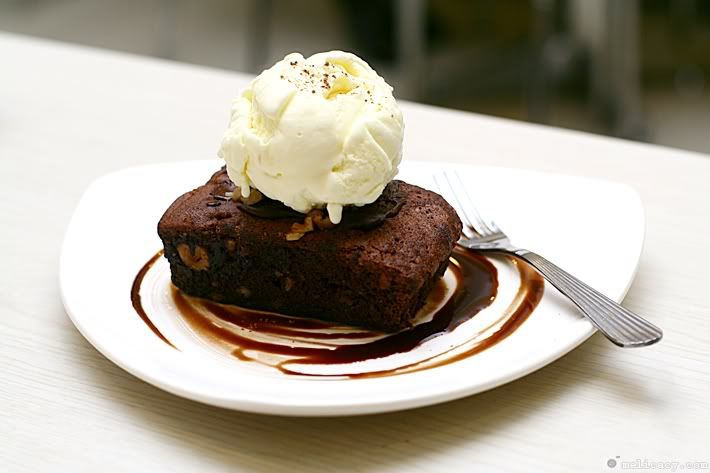 Brownie with Ice Cream
Desserts are paired with high-quality Mövenpick ice cream. Extra points added.

Bread Pudding
Bread Pudding = comfort food!

Apple Crumble with Ice Cream
The Apple Crumble is made in-house, and is surprisingly good for a chain restaurant that started out selling just pizzas.
Canadian Pizza Dine-In surprised me in more ways than one. Certified Halal, I now have one more place to recommend to my Muslim friends. I can't wait to go back and try the other dishes that my stomach didn't have space for!
Value for money, decent food, and the best part is: there is no additional service charge or tax.
Currently, they're having a promotion happening every Friday: with every $40 spent, customers get a free regular pizza.
Like their Facebook page here: https://www.facebook.com/canadianpizza.jlnkayu
Canadian Pizza Dine-in
248 Jalan Kayu, Jalan Kayu, Singapore 799472
Tel: (65) 6556 3588
Opening hours
Mon-Thu: 11:00 – 23:00
Fri-Sat: 11:00 – 01:00
Sun: 11:00 – 23:00