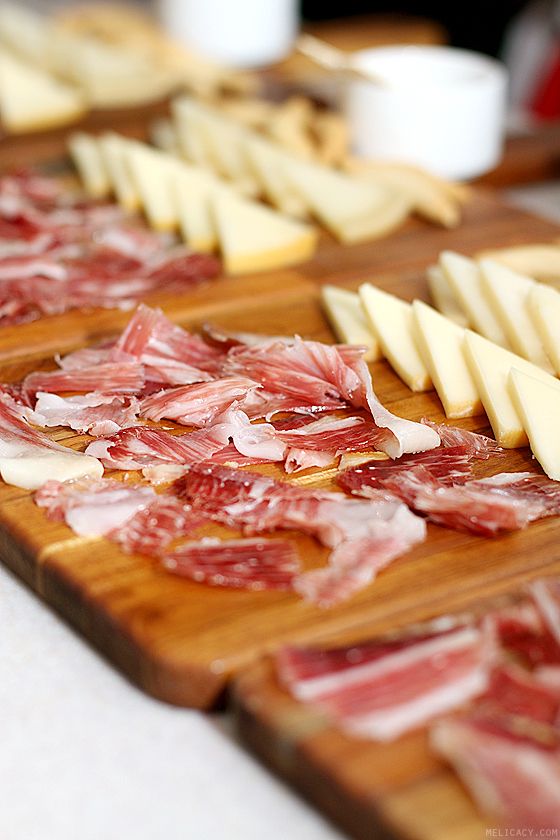 I recently attended a jamon-carving workshop held at My Little Spanish Place in collaboration with the Joselito brand. Tickets were priced at $150+ per pax (with additional $50+ option for wine pairing with 4 wines), which includes a hands-on session followed by a 4-course dinner showcasing the Vintage 2008 Joselito Jamon by Chef Edward Esmero.
The premium and well-loved Joselito brand has received positive testimonials from renowned personalities in the culinary scene from across the globe, such as Chef Gaston Acurio from Peru, Chef Ferran Adria from Spain, Chef Heston Blumenthal from UK, Chef Daniel Boulud from USA, and wine critic Robert Parker Jr. from USA. Quoting Chef Carme Ruscalleda from Tokyo and Barcelona, "A chef, facing a Joselito ham can only do one thing: turn off the fire, join the party and enjoy the ham".
The meat, cured in only natural sea salt, is red and delicate, with a smooth texture and marble appearance, low in salt content with no additives or preservatives.
Jamon carving looks effortless from a consumer's perspective – especially when jamon-carving guru, Chef Marina Sevillano, made it look so easy – but when it comes to our turn to do it, we realise it is no easy feat. Getting the desired thickness (or rather, thinness) consistently is a huge challenge for novices.
Check out the video taken at the session here: https://www.facebook.com/photo.php?v=650005238423865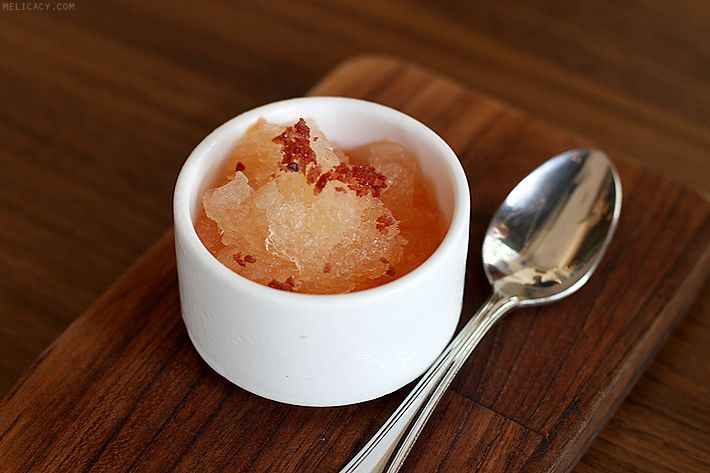 Grapefruit & Cava Sorbet
After the fun and interactive hands-on session, we headed out to the alfresco area, nibbled on tapas and sipped on sangria while the efficient crew made preparations for the dinner setting.

Navajas – Grilled razor clams with peppers, jamon Joselito Jus, broad beans and garlic croutons
Jamon is typically served as it is, atop a slice of toasted bread, with cheese or with sliced melon, as a starter or tapas. My Little Spanish Place dreams up a menu incorporating jamon in unexpected ways.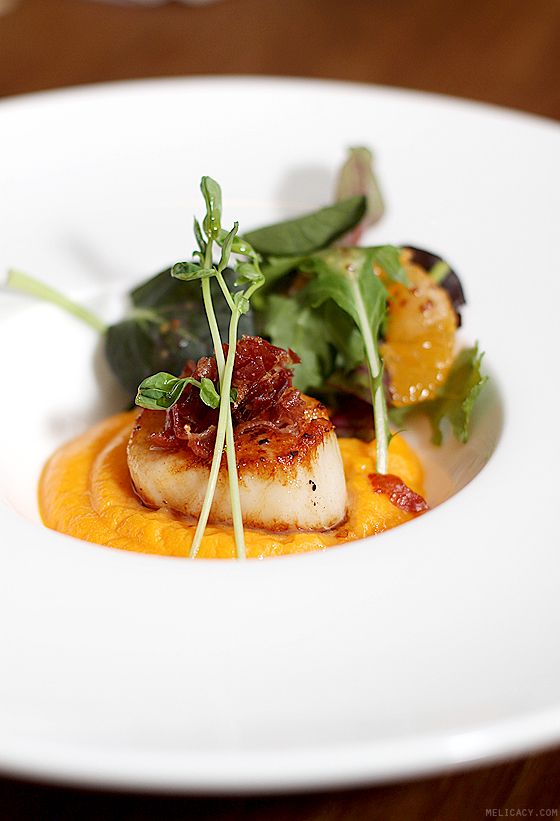 Vieiras – Seared scallops with creamy carrot puree, crispy jamon Joselito crumbs and mandarin & citrus dressing
The dish of Vieiras is a heavenly duo of seared scallops and crisp jamon crumbs, served on a bed of creamy carrot puree. Why didn't I think of serving jamon this way before?
Euraco Finefood Pte Ltd is a distributor for Joselito Jamon in Singapore. Prices range from $150 to $255 per kg, and 70-100g packets at $29. View the brochure here: http://euraco.com.sg/pdf/euraco_food.pdf
For orders or enquiries, call (65) 6276 5433 or email sales@euraco.com.sg
For more information on Joselito Jamon, visit http://www.jamoteca.com/en/hams/large-hams/joselito.html