Toast Box unveils a new promotional menu in conjunction with a charity drive to raise funds for ABLE (Abilities Beyond Limitations and Expectations Ltd).
ABLE is a charity organisation that strives to enable and empower the physically challenged community to be reintegrated into the mainstream society in Singapore to live a productive, meaningful and independent life.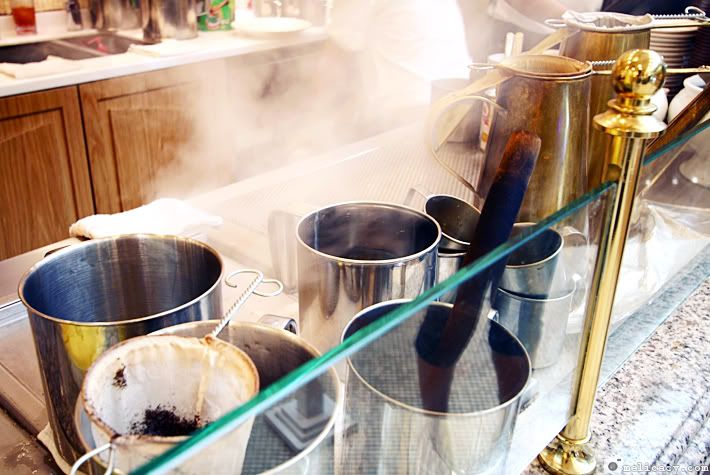 We are often overwhelmed by materialistic desires or little hurdles in life – such as scrimping and saving just to buy the latest gadget, splurging on the newly launched limited edition Chanel handbag, or struggling to meet demanding bosses' expectation, worrying about not paying the bills on time, et cetera – that we have forgotten that there are many others out there who need our love and care.
With the "LIM KOPI for a Cause" campaign, you can delight in Toast Box's new Thick Toast offerings – that are available at all Toast Box outlets island wide – while at the same time do your part for charity, without having to carve time out of your hectic schedules and commitments.

French Toast Butter Kaya
Toast Box gives back 30 cents towards raising funds for ABLE with the sale of every set in the following selection, all of which customers would enjoy promotional prices:
- French Toast Butter Kaya / New Hebi Hiam Thick Toast + Kopi @ $3 (U.P. $3.50)
- French Toast Butter Kaya / New Hebi Hiam Thick Toast + Kumquat Jelly @ $4 (U.P. $4.50)
- Curry Chicken + Kumquat Jelly @ $6.30 (U.P. $7.30)


French Toast Butter Kaya
Your typical egg-battered French Toast comes with a surprise within –fragrant Kaya (coconut jam) and melting butter are sandwiched between two slices of bread, coated with egg and fried to perfection.
I love Kaya, so this one triumphs over the Hebi Hiam Thick Toast for me.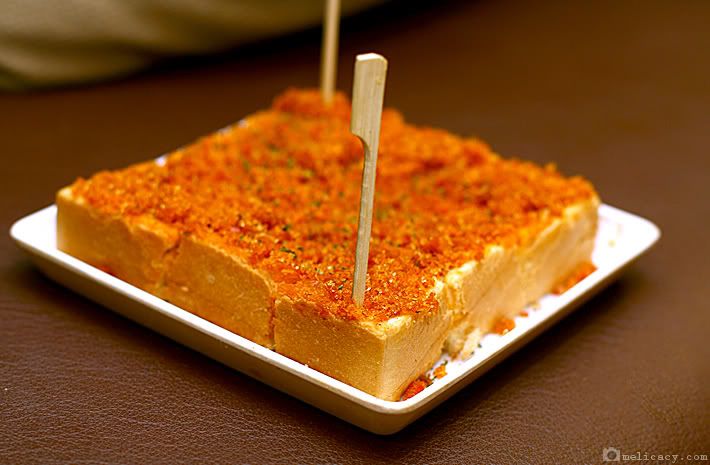 NEW Hebi Hiam Thick Toast
Dried shrimps and ground sambal chilli are common ingredients used to make Hebi Hiam –but different versions vary in taste and spice levels. Toast Box's Hebi Hiam is fragrant and not overwhelmingly spicy. I wonder if they would sell them by the jars –my dad will love this!
The toast on the whole is a little dry, but I found a solution to that.
Dip it in Toast Box's Curry Chicken. You won't stop at one.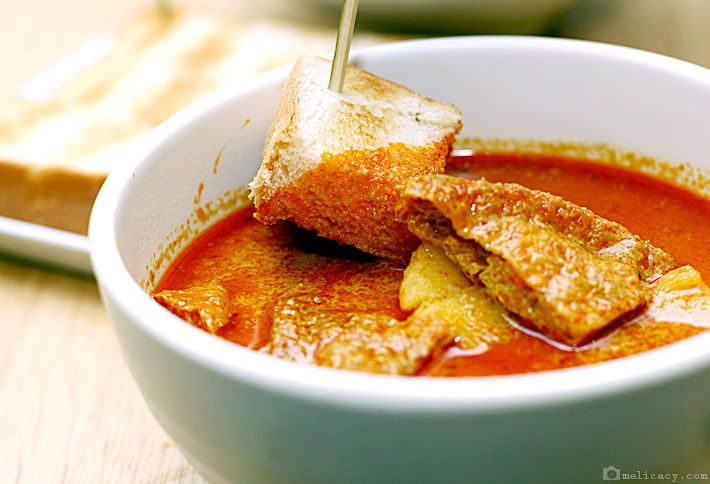 Curry Chicken ($6 a la carte, $7.20 set at Marina Bay Sands / $4.80 a la carte, $5.80 set at other outlets)
I love curry chicken, especially when it has this familiarity of home. Toast Box's Curry Chicken is fragrant and robust. I would gladly substitute the 'tau pok' (beancurd puffs) for more potatoes.
The Curry Chicken comes with toast or rice on the side; the gravy has entailed upon me a frenzy of addiction that I wiped the bowl clean with bread. Couldn't help it.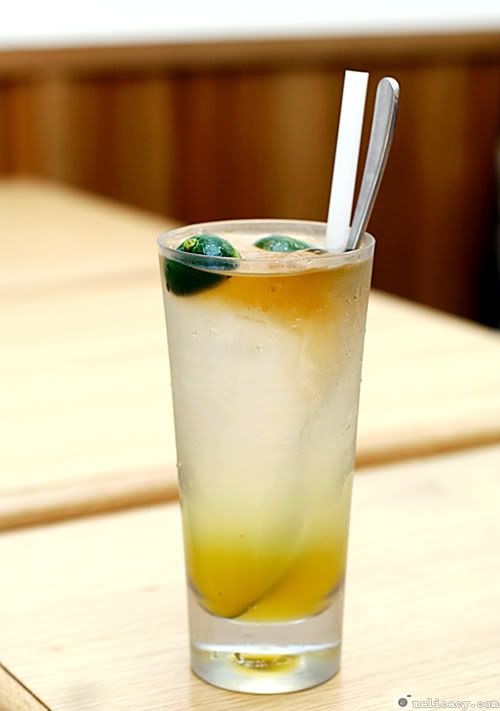 Kumquat Jelly Drink
The Kumquat Jelly Drink is a great accompaniment to the Curry Chicken, for its refreshing zing helps cut the richness of the coconut-based gravy.
Our nation can feel like a steam bath at times with the warm climate and humidity. This thirst-quenching beverage is perfect to beat the heat!
Dig in for chewy jelly bits that dissolve in your mouth. My gripe is the amount of ice –too much.

Toast Box Coffee Brew and Toast Box Coffee Powder
Apart from indulging in local delights and coffee in-store, you can savour home-brewed Nanyang kopi anytime in the comforts of your own home or office, with Toast Box's Coffee Brew and Toast Box Coffee Powder.
Designed to cater to the modern busy lifestyle, this convenient hand-held coffee-making apparatus is now more affordable with a promotional price of $25 (U.P. $30.80).
With each Coffee Brew Set sold in the months of August and September, Toast Box gives back $2 to ABLE.
Each set includes 1 Toast Box Coffee Brew and 250g Toast Box Coffee Powder.
It is extremely user-friendly, and a cup of coffee will be ready within 3 minutes –tasting as good as what they serve in stores.
For one cup of coffee:
- Add 2 spoons of Toast Box Coffee Powder into the Coffee Brew.
- Pour boiling water to the mark of 240ml.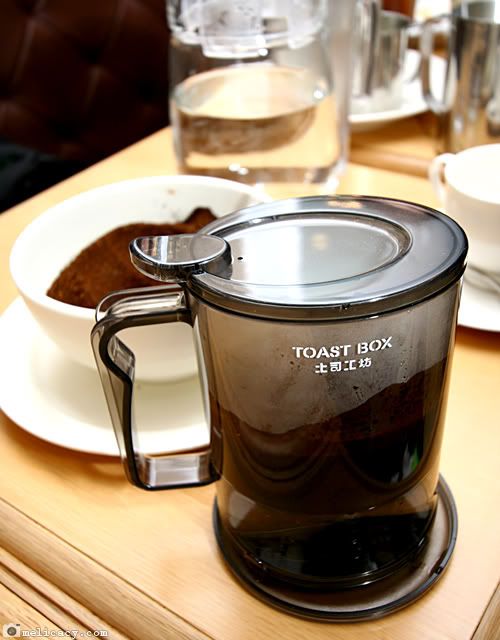 - Place Coffee Brew on the coaster provided and let it sit for 2 minutes to achieve full flavour extraction.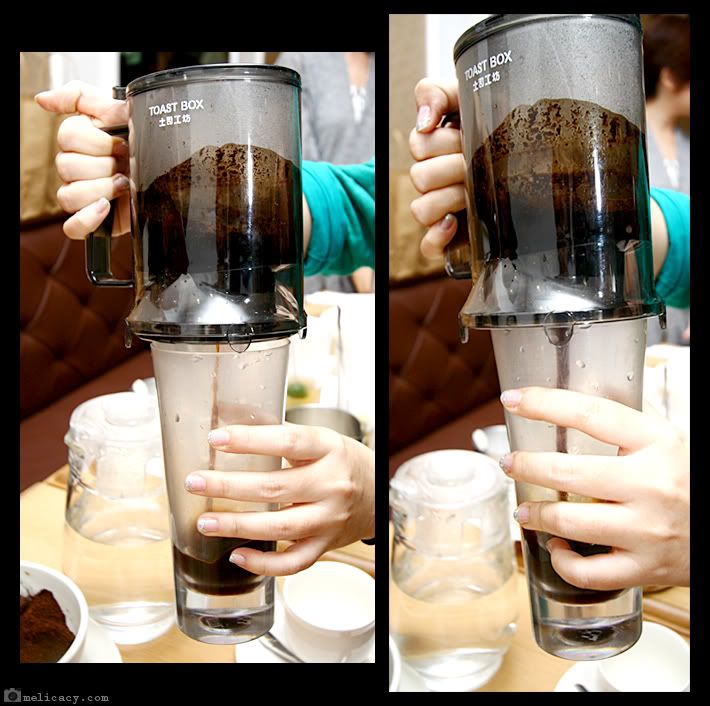 - Place Coffee Brew on an empty cup and watch the residue-free brew drip.
- Add milk or sugar to taste.
- Enjoy.
The Toast Box Coffee Brew is available in three attractive colours: a striking orange, a charming deep red and a classic black tint.
Apart from the promotional items, we also tried a few other dishes on the regular menu.

Fish Ball Hor Fun Soup ($6.20 a la carte, $7.40 set)
The Fish Ball Hor Fun Soup totally exceeded my expectations. Love the sizeable fish balls –ever so bouncy and juicy. I could finish the entire bowl if I didn't have to share it –but good things are meant to be shared.

Fried Fish Bee Hoon Soup / Fried Fish Soup with Rice ($6.20 a la carte, $7.40 set)
The thick chunks of Fried Fish are worthy of raves –fresh, succulent, and drool inducing. The soup, however, lacks flavour.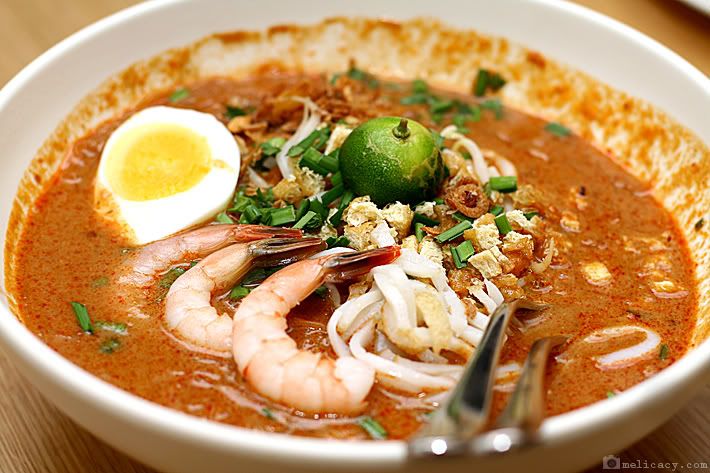 Mee Siam ($4.60 at Marina Bay Sands / $3.50 at other outlets)
Another popular local favourite available on the menu is the Mee Siam.
The pricing at Marina Bay Sands is a little higher than other outlets, but it is one of their few outlets than stay open 24 hours a day.
This outlet is perceived as an upmarket coffee shop, brightly lit with chandeliers, and spotlessly clean.
Visit Toast Box's website for more information: www.toastbox.com.sg
Toast Box @ Marina Bay Sands
B2-62, Canal Level
The Shoppes at Marina Bay Sands
Tel: (65) 6636 7131
Operating hours: 24 hours