Had a long busy day and your belly is starting to chime in?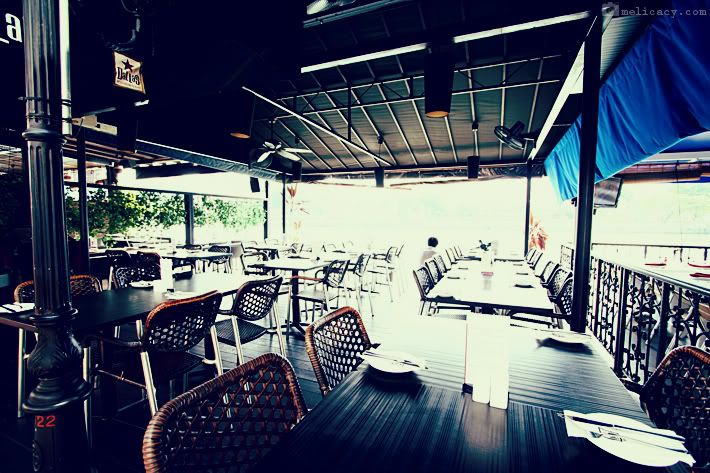 Convenience is key. You don't have to wander far from the Raffles Place MRT Station to arrive at Dallas Restaurant and Bar –it is just a few steps away from the 'starting point' of the lively stretch of Boat Quay's riverfront restaurants where the office crowds, tourists and expats congregate at.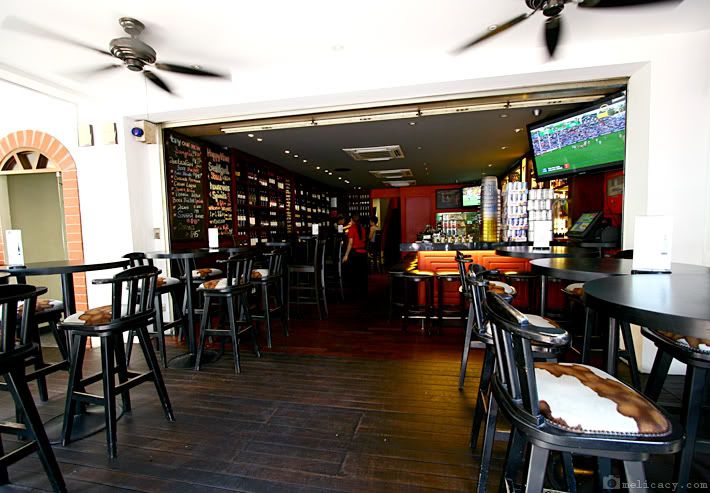 Occupying the first floor is an alfresco dining area and bar. The furnishings match the kitchen's intent –decidedly Texas-style.
If you're planning on having an urban Dallas Cowboy themed party, you're on the right track.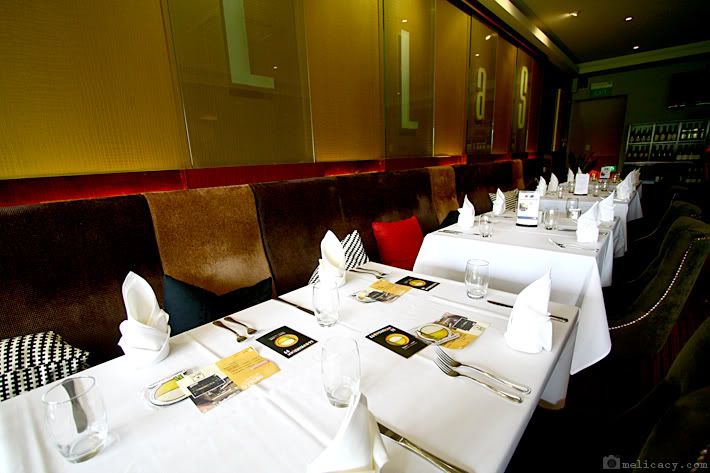 Walk up the stairs, and you'll be in for a surprise. A contrast to the urban cowboy's den on the first floor, a charming restaurant takes up the second floor, radiating a classy yet cosy vibe.
I love the snugly cushioned seats, and huggable plush pillows that add a vibrant splash of colours while providing comfort and cosiness.
12 OpenRicers were invited to OpenRice's 26th Tasty Union (tasting session).
6 Dallas Platters and 6 main courses emerged from the kitchen, one at a time. And by the end of the last main course, we were too stuffed for dessert!
Be prepared to feast on enormous portions, Southern style.

Starters and Bar Snacks

Salt and Pepper Calamari ($14)
The Salt and Pepper Calamari is stunning –far exceeding my expectations. The squid is plump and isn't overly chewy; it is encased in an utterly delicious golden batter that isn't too greasy.
When served with a slice of lemon and a dollop of chilli mayonnaise, calamari transfigures into something better than your typical battered squid rings.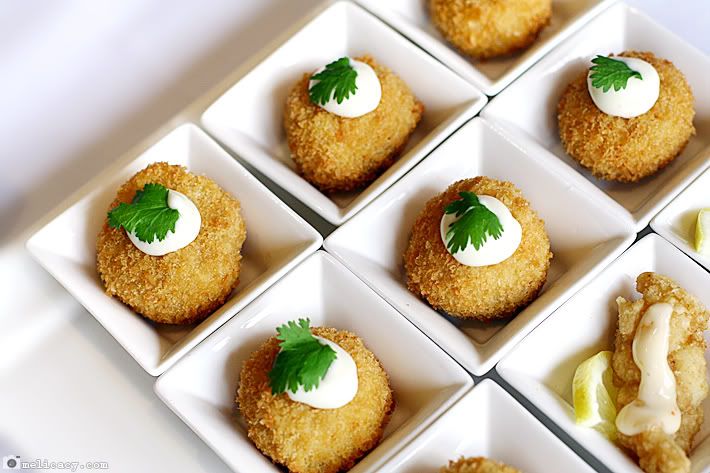 Breaded Mushrooms ($12)
The Breaded Mushroom is a personal favourite.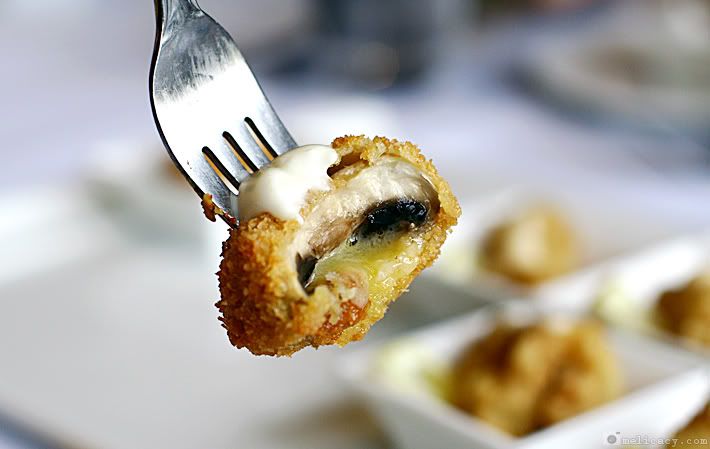 The morsel will burst with earthy fragrant juices in your mouth upon the first bite, and melted cheese slowly coating your palate with salty creamy goodness.
Highly addictive. I wanted more.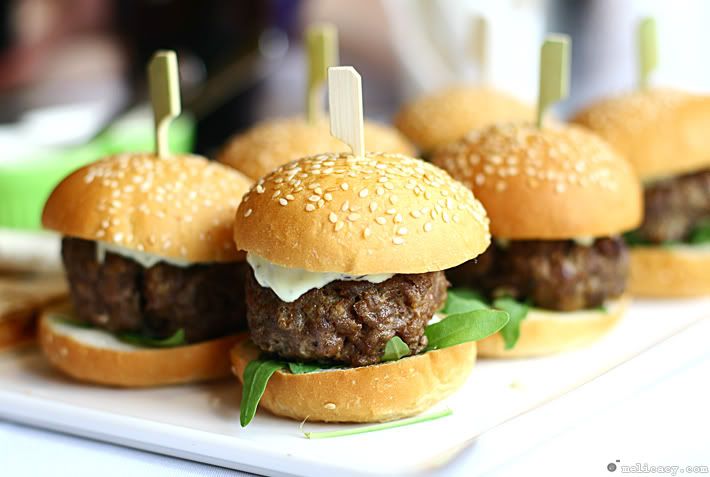 Slider Platter ($14 for 3 sliders, $26 for 6 sliders)
Mini burgers with a choice of pulled pork, beef or lamb patty.
We were served the Lamb Mini Burger. The patty was cooked thoroughly, which resulted in the lack of moisture.
There's no wow-factor. Not that I remember of.
I like the thickness of the patty though.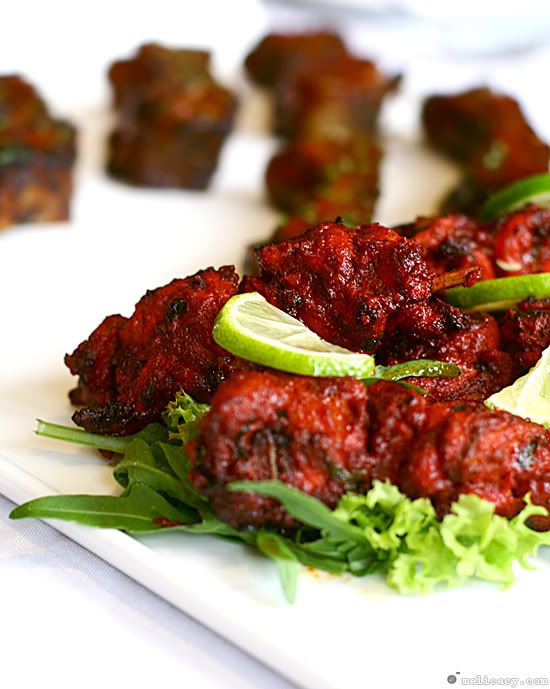 Chicken Tikka with Coriander Mint Sauce ($12)
Chicken pieces are marinated in curry yoghurt sauce and char-grilled to perfect tenderness.
Deeply flavoured, it comes with a coriander mint sauce if you'd like an extra hit of refreshing piquancy.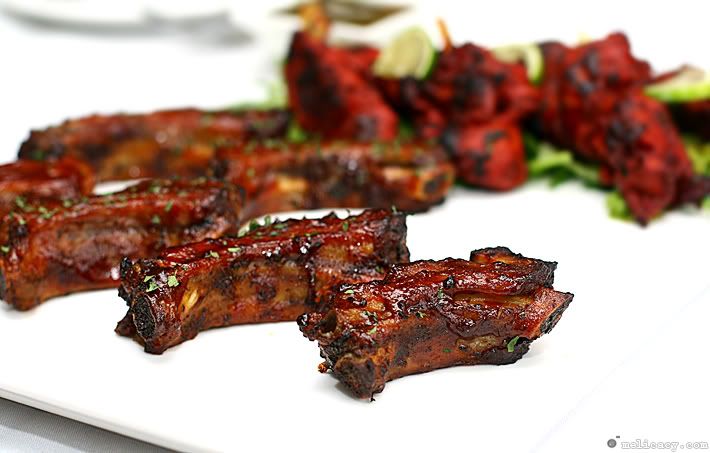 Alabama Pork Ribs ($12)
Pork ribs drizzled with sweet chilli BBQ sauce
The Alabama Pork Ribs is not something I would order again; although I have to say the smoky caramelised coating deserves some finger licking.
The portion size will not entice carnivores.

Quesadillas Platter ($15 for 4 pieces, $28 for 8 pieces)
Dallas is a city in Texas, which is a state in the southern U.S on the border with Mexico –thus it is not surprising to see Mexican food on the menu.
For the Quesadillas Platter, you can choose from Roasted Chicken, Vegetarian or Pulled Pork. It is served with guacamole and sour cream.
We had the Roasted Chicken. It wasn't bad. However, I would order the Pulled Pork the next time round to try. Also, it would be interesting to see what the Vegetarian option would be like!
Mains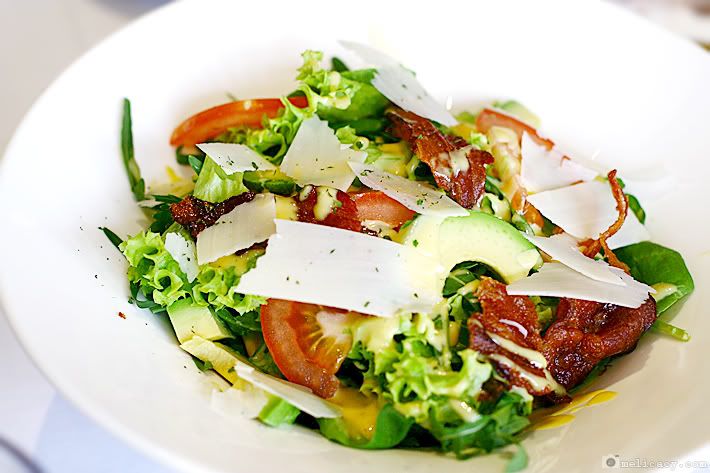 Crunchy Honey Mustard Bacon Salad ($17)
Mixed leaves, tomato, crispy bacon and avocado topped with honey mustard dressing
I don't like salads, and I will not order salad at a restaurant.
But, the Crunchy Honey Mustard Bacon Salad left me wanting more.
Love the honey mustard dressing –though not the healthiest dressing, at least it got me to eat my greens. Love the thick slices of avocado –adding that needed creaminess without the guilt. The bacon was crispy till the very last piece at the bottom –lending a much desired crunchy texture and saltiness to the salad.

Dallas Fajitas ($24 for one, $38 for two)
Choice of grain fed ribeye beef, chicken or vegetarian served with guacamole, sour cream, salsa, re-fried beans, caramelised onions and warm flour tortillas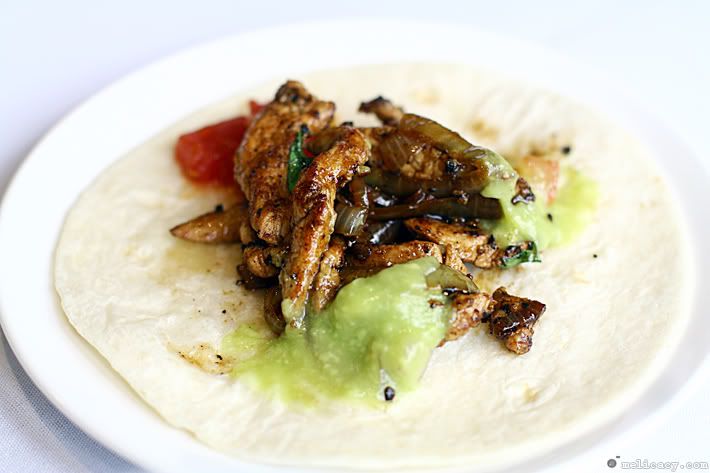 I love guacamole. Can't get enough of it.
The chicken pieces weren't as moist and tender, as I'd hope it would be –but to salvage that, you can coat it with more guacamole to add moisture and creaminess.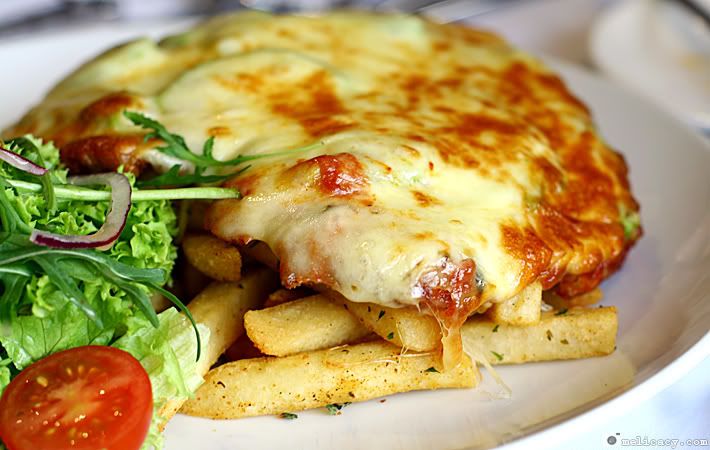 Avocado Chicken Parmigiana ($23)
The Avocado Chicken Parmigiana looks like an adaptation of a Mexican dish, executed in a Texas style.
Many Texan dishes are influenced by Mexican cuisine, so after all the fusion and confusion, they've decided to categorise those dishes under 'Tex-Mex cuisine'.
Tex-Mex cuisine is characterised by its heavy use of melted cheese, meat, avocado, and other common ingredients found in Mexican fare.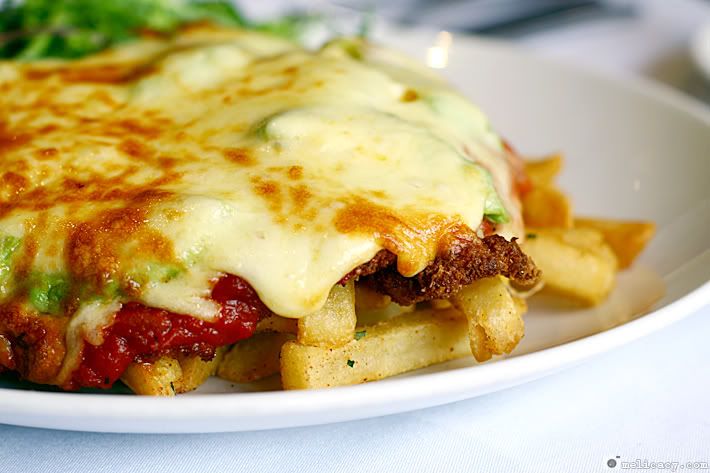 This dish is heavily sinful, but it is pure comfort food. It is a dish that you can stuff your face with after a break-up. Of course, if you're already in good spirits, this dish will make you feel even happier!
True to its description: Tender chicken breast pan-fried in Japanese breadcrumbs, topped and grilled with pasta sauce, avocado and mozzarella, served with salad greens and Dallas Fries.
It is what it is.
Be quick to put it in your mouth, or it will be in mine.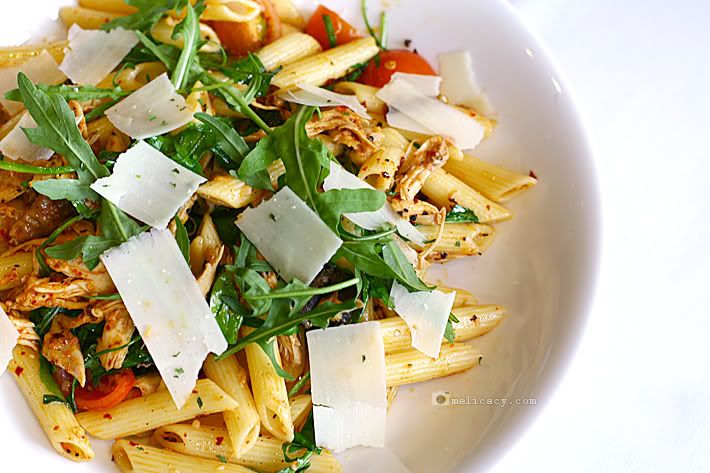 Roast Chicken and Penne Pasta ($20)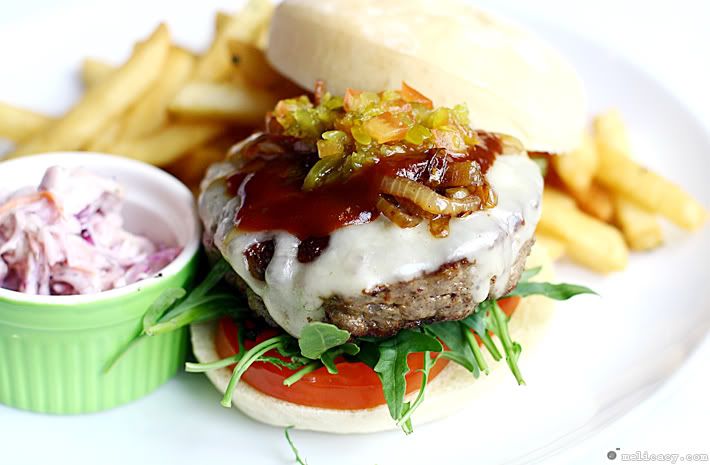 Southern Burger ($20)
Chargrilled ground beef patty topped with bacon, swiss cheese, BBQ sauce, tomato relish, aioli, caramelised onions, tomato and rocket on a ciabatta bun
With so many restaurants competing for the top spots, Dallas Restaurant & Bar has a vague chance of clinching the title of 'Best Burger in Singapore'.
Two of my favourite burgers are from Café Epicurious and Roadhouse. Anything inferior to the aforementioned, I will not fancy.

Baby Back Berry and Fiery Ribs (½ rack $24, full rack $32)
Slowly braised pork ribs served with red cabbage slaw and potato wedges
The award-winning ribs were clearly the stars in the restaurant's repertoire.
Forget the mediocre burgers. Order the ribs. That's where Texan cuisine shines.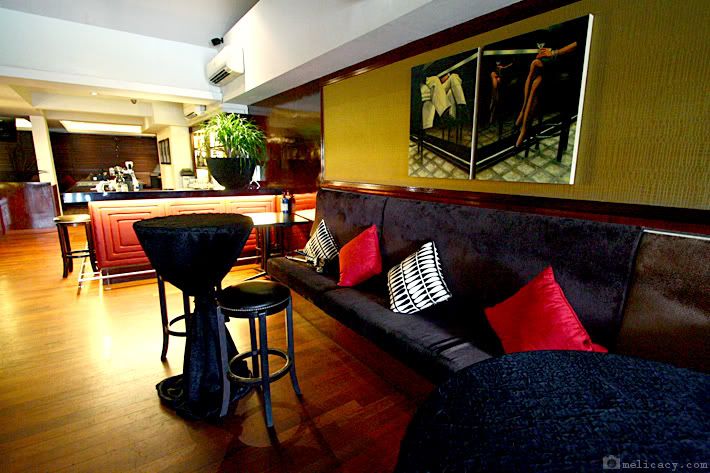 If you have time to spare, stay after your meal for alcohol and gossip at the Dallas Lounge on the third floor.
There is a full bar, plus a great selection of fine Australian and New Zealand wines at attractive prices.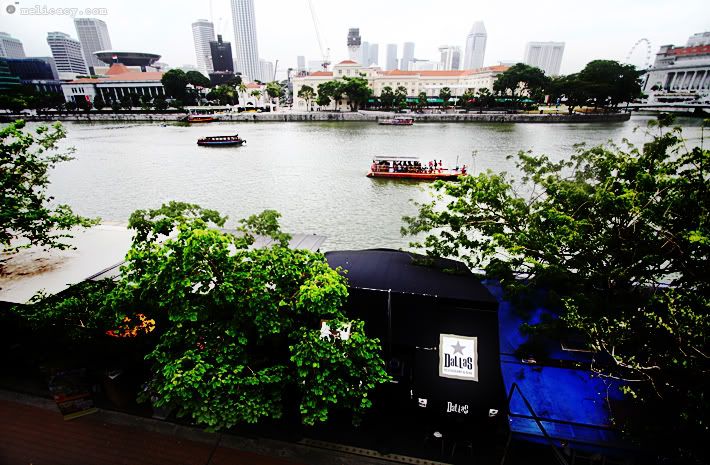 The private balcony is a great place to wind down, relax and enjoy the view of the picturesque historical Singapore riverfront.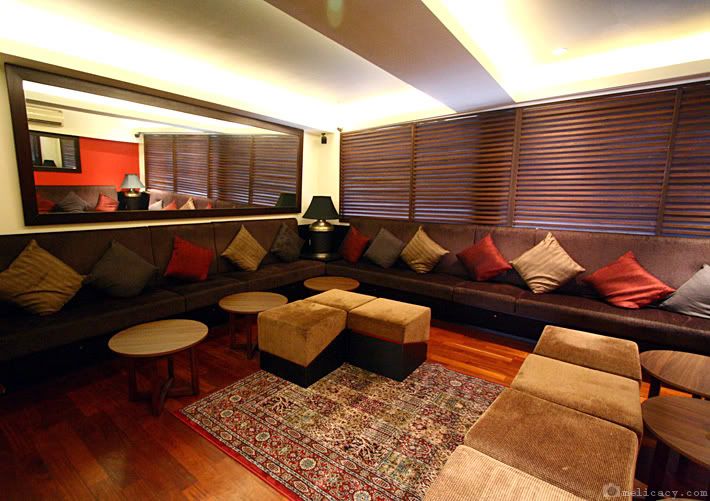 The entire floor accommodates 70 people, and is available for events and parties.
Thanks OpenRice for organising this awesome lunch session.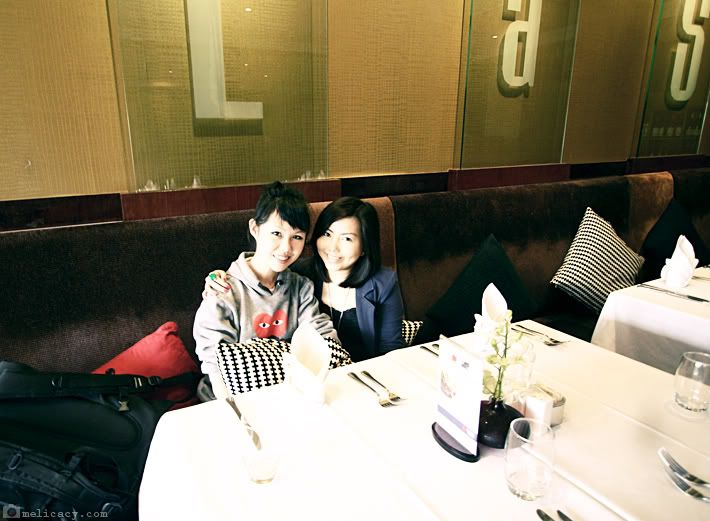 and my date, Juliana, for the awesome company :)
Dallas Restaurant & Bar
31 Boat Quay
Singapore 049820
www.dallas.sg
Tel: (65) 65322131
Email: enquiries@dallas.sg
Opening hours: 11.30am to 1am (Monday to Saturday)
Lunch: 11.30am to 2.30pm (Last Order)
Dinner: 6pm to 10.30pm (Last order for main course is 10.30pm and last order for bar menu is 11.30pm)