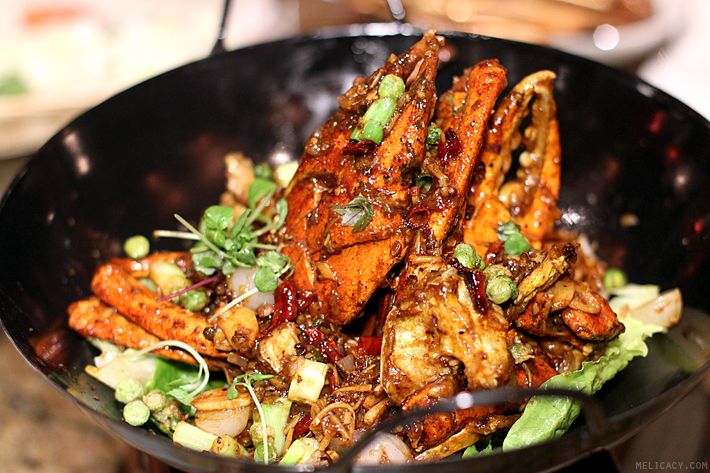 Prickly Piquant Crab
Poolside dining, barbecued seafood, meats, and fresh, succulent crabs –this, amidst lush greenery in the premises of Traders Hotel Singapore, smacked in the Orchard Road precinct.
The ambience of Ah Hoi's Kitchen is deliberately casual, minus the sloppy and rowdy aspects, open-air – meaning no air-conditioning – with both indoors seating and outdoors at the patio.

Steamed Sri Lankan Crab – crab steamed with old ginger and 'hua diao jiu' (Chinese wine)
Ah Hoi's Kitchen rolls out a "crab it your way" promotion offering Sri Lankan crabs prepared in 12 different ways, featuring four crab dishes a week, rotating every three weeks:
Menu one: Crab Congee (crab and congee cooked in superior stock and topped with crab roe), Crab Beehoon (beehoon or vermicelli wok-fried with crab, sun-dried shrimps and Tianjin cabbage in a superior stock), Mumtaz Crab (crab curry of mild cashew nut and tomato coulis, served with local baguette), and Udang Geragau Crab (crab wok-fried with dried shrimps, Thai basil and chilli.
Menu two: Crab Noodle (crab and rice noodles in a creamy superior broth), Crab Almondine (crab wok-fried with crispy almond and cereal crumb), Crab Tau Cheo (crab cooked in a tangy yellow fermented bean sauce) and Crab in Coconut Juice (crab cooked in young coconut juice with hints of kaffir lime and chilli padi).
Menu three: Crab Salted Egg (crab cooked in salted egg yolk sauce), Steamed Crab (crab steamed with old ginger and 'hua diao jiu'), Crab Kaffir Lime (crab dusted with kaffir lime soil and slow cooked over charcoal embers), and Prickly Piquant Crab (crab wok-fried with Sichuan pepper, pickled garlic and citrus salt).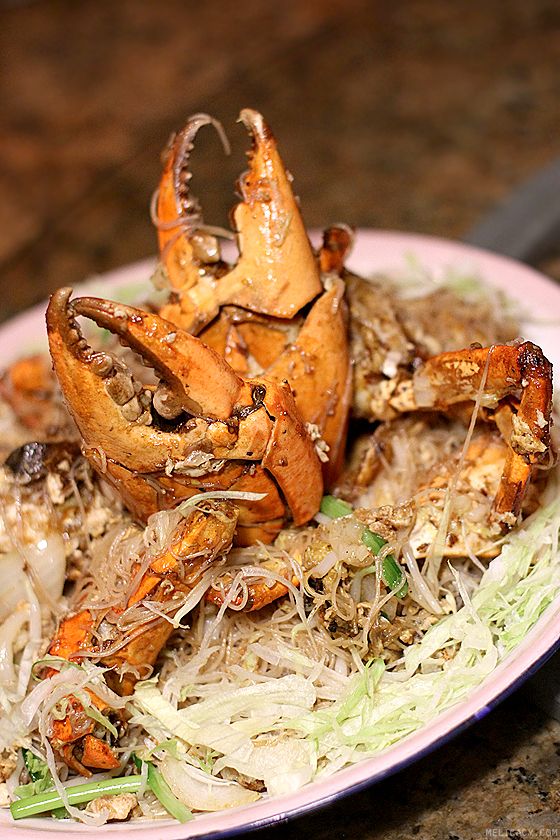 Sri Lankan Crab Beehoon
The Sri Lankan Crab Beehoon earns my vote. Beehoon (vermicelli), originally a poor man's food, has been elevated to a point of no return in the flavour department. In case you were wondering where the vermicelli got its flavour from, it's been tossed with crab, sun-dried shrimps and Tianjin cabbage and stepped in superior stock till the flavours are well absorbed. The degree of wok-hei fragrance reaches its peak in this dish –tremendously well executed. Continue reading